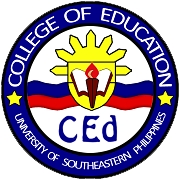 Four graduate students of the University of Southeastern Philippines' College of Education recently presented papers in two (2) international forums in the areas of Special Education, Early Childhood Education and Guidance and Counseling.
Ms. Carloyn M. Caga and Ms. May Ann A. Olalo participated in the 2015 East Asia Regional Conference of International Council for Education of Persons with Visual Impairment (ICEVI) in Bali, Indonesia on September 28-October 1, 2015, where they presented papers entitled "Effect of Chunking Method on the Mathematics Performance of a Learner with Visual Impairment and Additional Disability" and "Effect of Positive Behavior Support (PBS) in Reducing Inappropriate Behavior of a Child" respectively.
Graduate Students Ms. Caga and Ms. Olalo with Ms. Pavon and  Dr. Jalotjot in a souvenir photo at Bali, Indonesia.
Meanwhile, Ms. Estephanie M. Betinol and Ms. Wildie P. Manatad also shared their papers during the 1st International Convention on Children and Family in Legazpi City on October 15 – 17, 2015. The Research reported include "The Effect of Home Remediation Program in Improving Reading Skills in Sinugbuanong Binisaya" and Pagpangaway: Lived Experiences of the Bully, Bullied and Bystander in an Elementary School.
The graduate students were accompanied by USEP faculty who presented research papers themselves. Dr. Edna H. Jalotjot, Department Chair of Med-SPED, Med-ECE and Med-CO presented "Impact Evaluation of Training for Teachers Handling Children with Visual Impairment in Southern Philippines" and part-time faculty Ms. Maria Jean Pavon reported on "Using Pre-Braille Skills Approach in Improving Braille Reading of Pupils with Multiple Disability and Visual Impairment (MDVI)" in the Bali Conference. Ms. Adora P. Zerrudo, Chair of BEED-ECE also shared her findings on "So This is My Childhood Life: Outlook-in-life of Kindergarten Pupils with Cancer in a Hospital-Bound Educational Program" in Legazpi City.