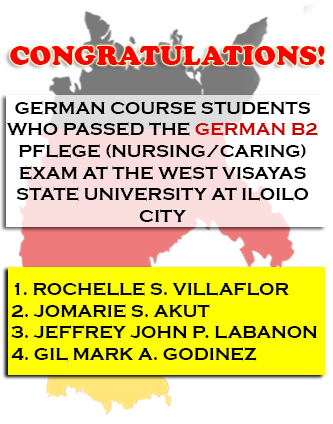 CONGRATULATIONS TO OUR FIRST BATCH GERMAN LANGUAGE B2 COURSE STUDENTS FOR PASSING THE PFLEGE (NURSING/CARING)
EXAM AT THE WEST VISAYAS STATE UNIVERSITY AT ILOILO CITY ! WE ARE SO PROUD OF YOU !!!
New Course                          : JULY 29 , 2019 (Monday)

Course Ends Up                   : NOVEMBER 20, 2019  (Wednesday)
New Course                          : NOVEMBER 25, 2019  (Monday)
Enrollment is ongoing for the next batch 
 Enroll Now !
Visit us at USEP Obrero and look for Institute of Languages and Creative Arts Office or contact us @ 224-1372 and look for Ms. Shella or Ms. Jessa for more information. You can also email us @ ilcausep@gmail.com or add our FB account ILCAUSEP .