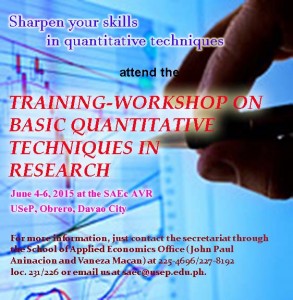 The School of Applied Economics (SAEc) is tasked with teaching, conducting research and providing advisory and extension services to government and private institutions. SAEc has designed, for its extension, the Research Assistance and Training in Economics and Econometrics (RATEE) Program for researchers, planners and policy makers. These programs are designed in response to the growing need to enhance and/or upgrade the quantitative skills of researchers and planners involved in agriculture, economics, and other related disciplines where decision-making requires quantitative analyses.
SAEc, in partnership with the Mindanao Economics and Econometrics Association, Inc. (MEEA), will conduct the training on Basic Quantitative Techniques for Research, this June 4 – 6, 2015 (8:00 AM to 5:00 PM) at the SAEc AVR, USeP, Obrero, Davao City. The training is designed for academicians and researchers in the private and public sector. Participants will be able to gain knowledge in identifying appropriate methods for undertaking statistical analyses of various data types using software applications. One of the main purposes of the training is to introduce the research process, sampling methods, exploratory data analysis, and descriptive and inferential statistics.
A registration fee of PhP 3,600 per participant shall be assessed for the 3-day training. The fee shall include food, training kits and certificates. For participants outside Davao City, the University Hostel is charging a dormitory-type accommodation for only PhP200.00/night/pax (for reservations just contact, Ms. Estela Magandi at 227-8192/225-4696 loc.255).
You can download the program and registration form to signify your intention to attend the training. For more information, just contact the secretariat through Jennifer Hinlo and Vaneza Macan at 227-8192 loc. 231/226 or email us at saec@usep.edu.ph.