Representatives from 17 Asian countries gathered at the Sukosol Hotel in Bangkok, Thailand on February 26 to March 9, 2018 for the Training Programme on Economics of Climate Change Adaptation (ECCA)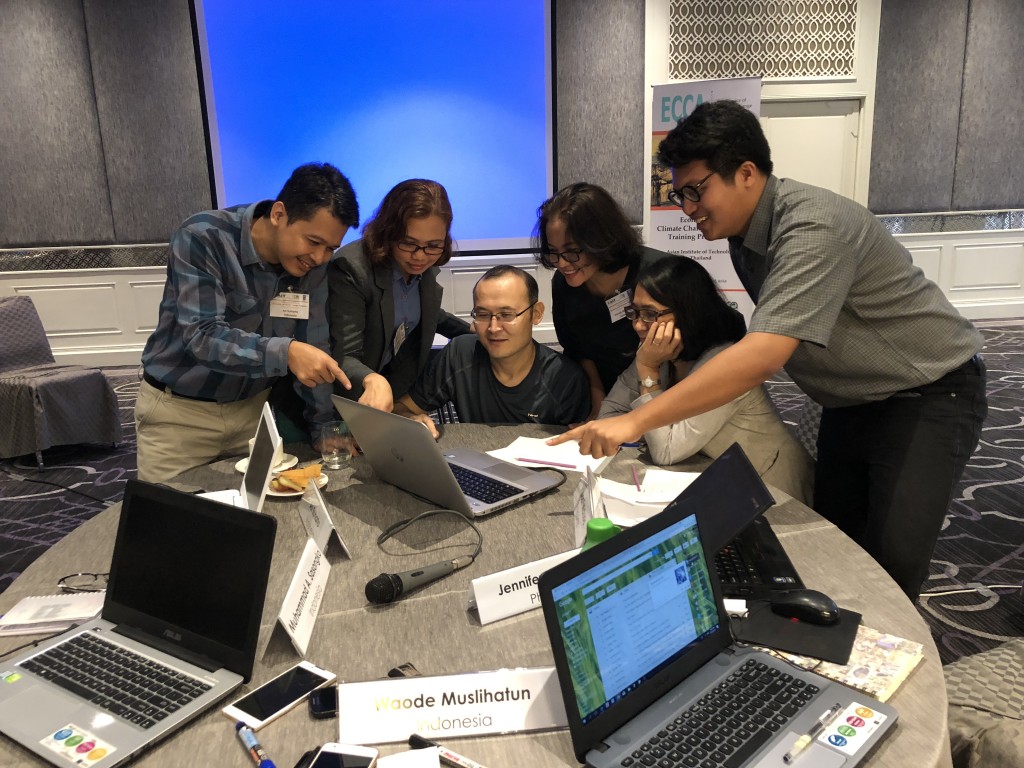 USeP School of Economics acting dean, Jennifer Hinlo (second from left), participates in one of the activities of the program designed to implement climate-resilient projects and policies
The School of Applied Economics (SAEc) acting Dean, Jennifer E. Hinlo, was among the selected participants to represent the Philippines in the Training Programme on Economics of Climate Change Adaptation (ECCA) on February 26-March 9, 2018 in Sukosol Hotel in Bangkok, Thailand.
The 23 participants from 17 countries in Asia spent 10 days learning about the economic analysis for climate change adaptation projects. The training programme was also conducted to equip government officials and other stakeholders in Asia and the Pacific Region with economic tools necessary to identify, prioritize, design and implement climate-resilient projects and policies, formulate national adaptation plans, and access climate finance for adaptation action.
The capacity building Programme on ECCA in Asia is a cooperative effort between the United Nations Development Programme (UNDP), the USAID ADAPT Asia-Pacific Project, the Asian Development Bank, the Global Water Partnership and Yale University. The ECCA programme, which was launched in 2012, resulted from a regional consensus on the need to build governments' capacity in mainstreaming climate risks into planning processes to ensure economically-efficient climate change strategies and plans. The programme has accomplished two runs already in August 2017 and March 2018.
The first week of the training focused on the basics of proposal development for climate change projects and where economic analysis feeds into it, which is a requirement by some key financiers such as the Green Climate Fund (GCF). There were discussion about climate change impacts on economic sectors and the training team also devoted time for exercises and games related to the training topics. Moreover, the second week topics included phases in conducting cost benefit analysis (CBA) of different adaptation options with Dr. Benoit Laplante, UNDP Consultant and Professor from Simon Fraser University. Dr. Laplante provided useful insights and practical examples from his experiences in doing economic analysis for GCF, World Bank, and Asian Development Bank climate change projects in Asia. With some participants working in country teams—Bangladesh,  Indonesia, and Philippines—15 project ideas were developed, many of which show potential for future development and reliance on AIT's follow-up mentoring and advisory opportunities.
This training programme is in line with USeP's RDE Agenda on Climate Change. This is also a chance to learn the economic tools necessary in studying issues on global warming, disaster risk management, and pollution control. One of the criteria for selection is the potential of participants to apply the content of the training. Moreover, the knowledge gained from this training shall also serve as inputs in SAEc's curriculum and instructional materials.