Office of the Vice President for Research, Development and Extension
ABOUT THE OFFICE

The Office of the Vice President for Research, Development and Extension (OVPRDE) oversees the entire Research and Innovation undertakings of the University. It ensures that programs, activities, and projects are properly coordinated, and implementation is facilitated for the realization of the University's RDE mandate. The office performs the two essential pillars of the four-fold functions of this University, apart from instruction and production. The office serves as the nerve center for all academic research, development, and extension services. It aims to achieve better management, enhanced productivity, and improved efficiency and effectiveness of the university's RDE programs. It operates under the following principles: Interdisciplinary and multidisciplinary approach; Balanced RDE programs in all levels; Strong inter-agency linkages and collaborative efforts; and Rational utilization of human and physical resources. The office established the Office of Project Development and Linkages (OPDeL) as the hub of the RDE relations to genuinely support the plans and programs of the university in order to intensify external RDE partnership and linkages in coordination with the three (3) divisions, namely: Research & Development Division, Extension Division, and Knowledge and Technology Transfer Division.
LATEST POSTS

Know the latest news about
the office: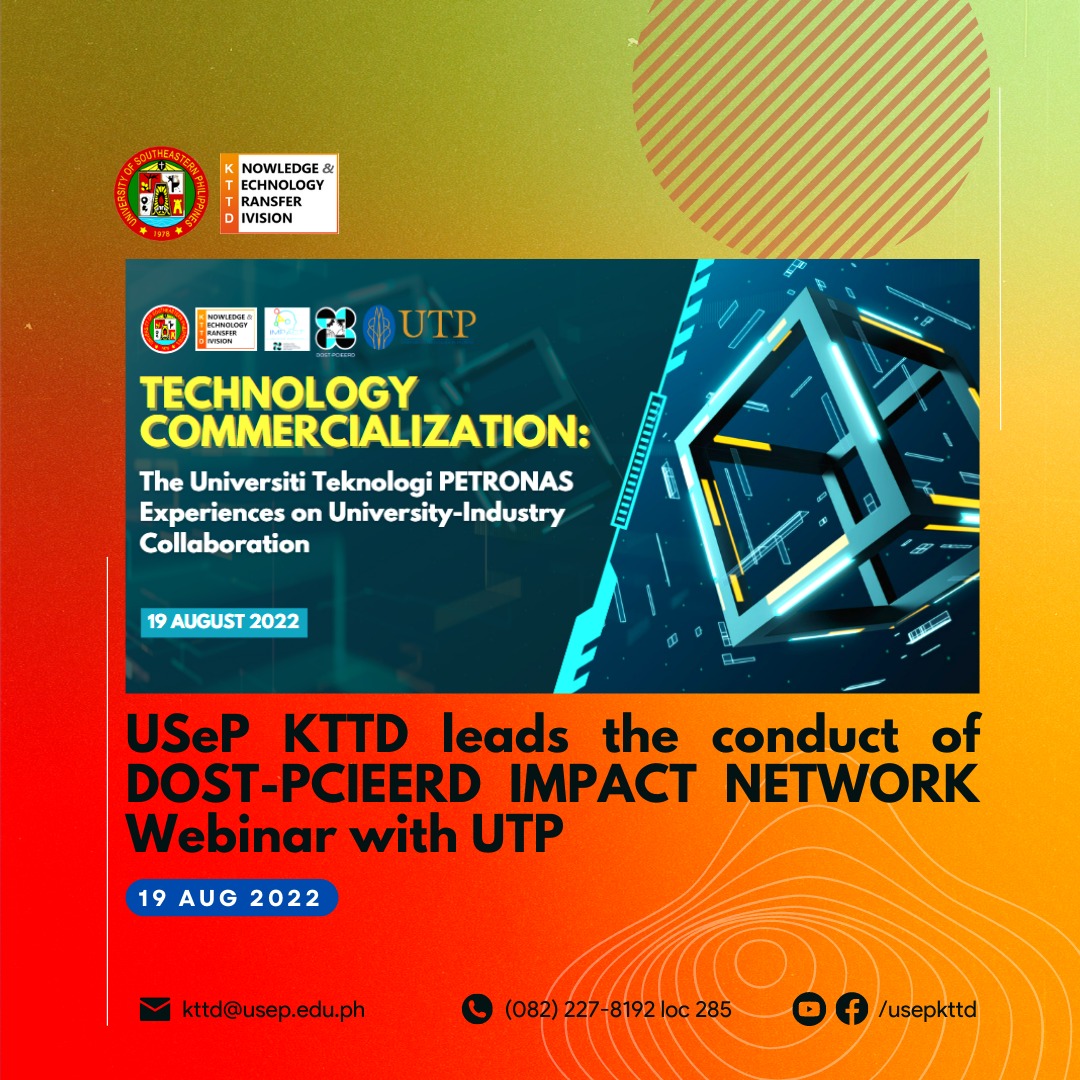 By ovprdenewsio
/ August 23, 2022
The University of Southeastern Philippines (USeP) - Knowledge and Technology Transfer Division (KTTD) partners with Universiti Teknologi PETRONAS (UTP) to...
Read More
CONTACT INFO

Research, Development and Extension
University of Southeastern Philippines
Iñigo St. Bo. Obrero Davao City 8000

Telephone: (082) 227-8192 local 297
E-mail: rde@usep.edu.ph