(L-R) SAEc Acting Dean, Jennifer E. Hinlo with Prof. Worawet Suwanrada, PhD, Dean, Faculty of Economics, Chulalongkorn University, Bangkok, Thailand, on March 3, 2018
The University of Southeastern Philippines (USeP) aims to strengthen the quality of its programs by adhering to the global standards in higher education. To learn the best practices of higher education institutions in the ASEAN Region, USeP is actively participating in study visits to learn, network, and link with fellow academicians. The School of Applied Economics (SAEc), through its Acting Dean, Jennifer E. Hinlo, conducted benchmarking activities on March 3 and 9, 2018 in two prominent Faculty of Economics in Chulalongkorn University (Chula) and Thammasat University (TU) in Thailand.
The aim of the visit is to learn the best practices of their Faculty of Economics in terms of instruction, research, extension, and publications. It was also an opportunity to discuss with them possible partnerships on student mobility, credit transfer, faculty exchanges and fellowships.  SAEc also exchanged publications with the two Universities and presented its track record in research evidenced by the research outputs it has accomplished through the years.
During the visit on March 3, acting Dean Hinlo was welcomed by Prof. Worawet Suwanrada, Ph.D., Dean of the Faculty of Economics in Chula.  Officially founded on August 8, 1970, the Faculty of Economics in Chula was the result of the collaboration between the Department of Economics in the Faculty of Commerce and the Department of Public Finance in the Faculty of Political Science. The principal objective of the Faculty is to undertake activities that promote economic and social development of Thailand. In addition to its academic strength, the Faculty boasts an extensive collection of textbooks and journals, including its own Chulalongkorn Journal of Economics.
On March 9, SAEc was welcomed by the TU Dean of Faculty of Economics, Assoc. Prof. Chayun Tantivasadakarn, Ph.D; Vice Dean for Academic Affairs, Assist. Prof. Dr. Chalotorn; and Vice Dean for International Affairs of the Faculty of Economics, Dr. Chayanee Chawanote. The Faculty of Economics at TU was founded in 1949 as a leading economics institute in Thailand. The Faculty offers a broad range of academic programs, including bachelor's, master's, and doctoral degrees, as well as training opportunities. With over 70 highly accomplished faculty members, most with Ph.Ds from leading universities, the Faculty represents a wide spectrum of academic activities such as influential research that contribute to the advancement of teaching. With rigorous academic excellence focusing on critical thinking and problem-solving, many of the graduates attain prominent positions in the worlds of business, academia, and international organizations.
The meeting of SAEc and the Faculty of Economics of Chula and TU was an opportunity to confer respective commitments to educate, spur critical thinking, and develop intellectual skills and knowledge of students in economics. The universities embraced their responsibility to the present and future generations by expanding knowledge in economics through research and fostering and promoting principles of equity.
This benchmarking activity is a starting point of SAEc to establish its network and link with fellow economists in the ASEAN Region.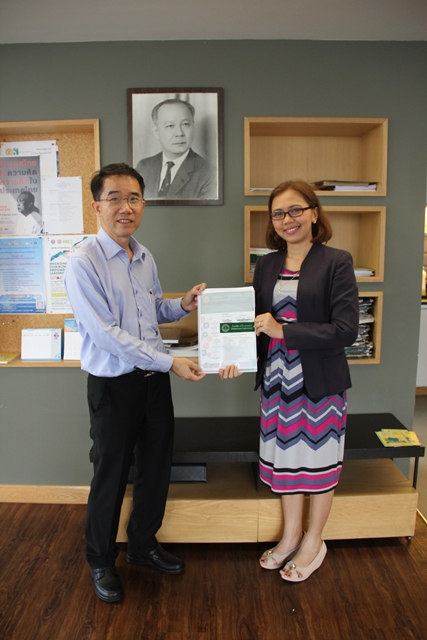 SAEc Acting Dean, Jennifer E. Hinlo (right) with Assoc. Prof. Chayun Tantivasadakarn, Ph.D, (left) Dean, Faculty of Economics, Thammasat University, Bangkok, Thailand, on March 9, 2018