Due to the minimal seating capacity of public utility vehicles in observance of the social distancing practice, workers encounter difficulty in commuting to and from offices. Although the University has adapted work-from-home scheme for most of its employees, there are employees from offices needing skeletal force that are still faced with this issue. With this in mind, the University initiated to offer free transportation for its skeletal workforce during their scheduled days to report on duty.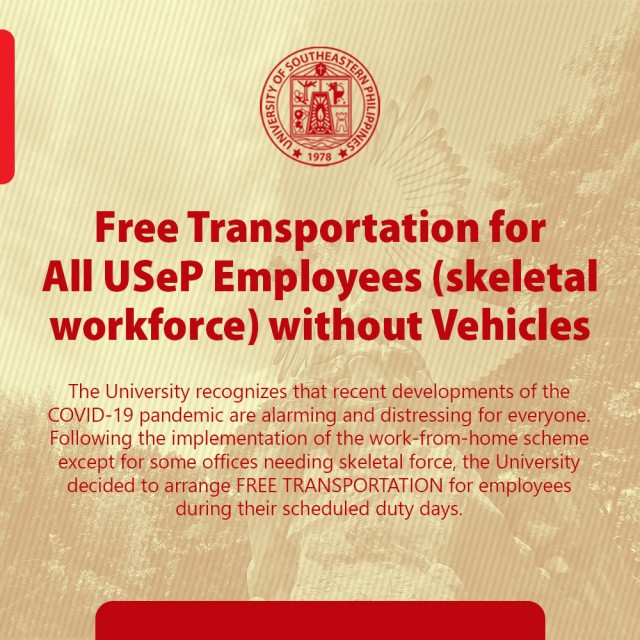 For Obrero Campus, this initiative took effect on March 23, 2020 and respective University vehicles as well as drivers were dispatched to transport skeletal workforce to the University and back to their respective areas/residences.
Employees residing at the southern part of Davao City were transported by the Hino bus which was initially stationed at Toril District Hall scheduled to depart at 7:00 AM. There were also designated bus stops at Ulas (near the police station), Bangkal (Central Park), Matina (across Center Point Plaza or Public Market), and Bankerohan Public Market (at the end of the bridge). As for employees residing at the northern part of the City, two (2) Ertiga vehicles were stationed at Panacan (St. Peter Funeral Homes) scheduled to depart at 7:00 AM. The designated stops were at Jose Maria College (JMC) Waiting Shed, Laverna Hills (Taas/Ubos) Commission on Audit (COA XI), Buhangin Gym, and Dacudao.
All employees waiting for the vehicles outside the designated stops were instructed to hail to the bus driver to indicate that they are USeP employees.
The Tagum-Mabini and Mintal Campuses have also made arrangements for the transportation needs of their skeletal workforce. (DLMatugas)