As the COVID-19 pandemic began to take a hard toll on the lives of people in the Davao Region, the University of Southeastern Philippines (USeP), Southern Mindanao Agriculture, Aquatic and Natural Resources Research and Development Consortium (SMAARRDEC) and DOST-PCAARRD provided timely and quick response to a critical sector: food producers and farmers situated in the peripheries. Indigenous peoples who plant bananas in Talaingod, Davao del Norte faced market uncertainty and thereafter a probable huge loss of income due to the unsettling situation brought by COVID.
The Amoma ug Giya Alang sa Kahamugaway (AGAK or Care and Guide for Stability) program became what one might call an apt and quick government- and private-sector response to needs of farmers who belong to indigenous cultural communities (ICCs or IPs). Ata-Manobo farmers living in Talaingod have reaped benefits from the program, whose aim was to: train smallholder banana producers; help market produce; and grant assistance in terms of tools and equipment. TESDA (Technical Education and Skills Development Authority), industry partner Hijo Resources Corporation, and LeadTech Training Center have contributed to the initiative in various capacities.
Already launched by January 2020 in anticipation of the difficulties prompted by the pandemic COVID-19, AGAK was put up to assist IP communities and small farmers in marketing their products at reasonable price by eliminating middlemen in the supply chain. Its engagement includes both industry (for marketing) and government (for technical training and funding assistance). Information, education and communication (IEC) reading materials translated to local beneficiaries' language are also among its aims such that knowledge gained from the training and activities is maximized and sustained among users.
Training, Marketing, and Tools Provision: AGAK Initiatives to battle COVID
With minimal and limited movements due to the Davao Region lockdown and Enhanced Community Quarantine (ECQ), the collaborative initiatives and interventions of AGAK were still effectively delivered, starting with an informal hands-on training on Cardava (Saba) banana last April 29, 2020 led by SMAARRDEC Consortium Director Dr. Gilbert A. Importante. Technical assistance was provided covering topics such as population control, proper fertilization practices, and proper harvesting and handling of the crop.
Last May 5, 2020, farmers harvested their produce. Production per bunch was 19.9kl, a notable increase from the previous season's 12kl per bunch.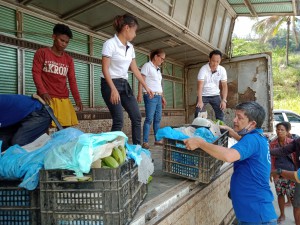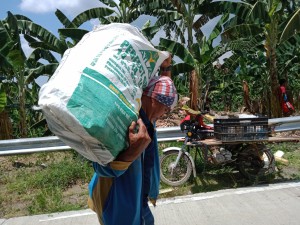 Farm tools like desuckering knives, deleafing knives and bolos were provided to farmers courtesy of TESDA. The agency has also distributed sacks of fertilizers to IP farmers in Brgy. Palma Gil. These farm inputs' distribution was assisted by the 60th Infantry Battalion.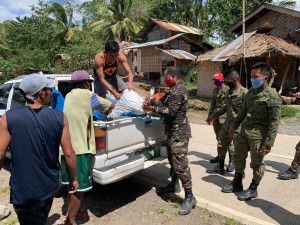 Further, with the help of LeadTech Training Center through its owner Mr. Reyman Zamora, an AGAK center has been established in the barangay. Datu Manuel Mampaundag, leader of the Ata Manobo tribe of Igang, expressed gratitude to the Team in view of receiving guide and care support during the pandemic.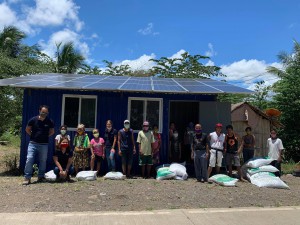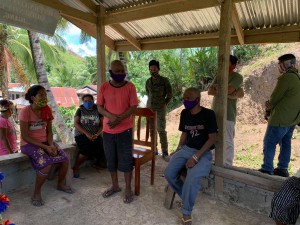 Strengthening Partnerships During and Beyond the Pandemic
Small farmers are a vulnerable community when health crises strike. But even these "backliners" need to be highlighted in the forefront too, for the bare reason that they produce food for society. Government institutions like USeP, the DOST-PCAARD and its consortium SMAARRDEC, as well as industry partners like HRC, are aware that joint efforts and initiatives have to be continued during and beyond the pandemic.
To this date, the AGAK project is a sustained collaboration among six (6) agencies: SMAARRDEC, USeP and DOST-PCAARRD take charge of sharing resources, providing training and technical assistance on agricultural production; HRC concerns itself with market linkage for the products harvested by the IPs and small farmers; LeadTech Learning Center does market intelligence and networking and ensures ICT infrastructure is in place to help the farming community; and TESDA grants financial help for training, farm inputs and tools.
Way forward
Future collaborative activities with other agencies are already lined up to further sustain the project and improve the initiatives. Below are the endeavors:
• Additional agricultural training to be conducted by SMAARRDEC in partnership with DOST-PCAARRD, USeP, DA-RXI, ATI-RX and TESDA
• Production and distribution of IEC reading materials on Saba and vegetable production in local language
• On-going market exploration for Saba to Korea, Japan and Manila through HRC
• Community energization by LeadTech
• Establishment of 1 hectare demonstration farm through Sloping Agricultural Land Technology (SALT) in partnership with SMAARRDEC, DOST-PCAARRD, USeP, DA-RXI, ATI-RX and TESDA
• Financial institution linkages between SMAARRDEC, DOST-PCAARRD, USeP and LeadTech
Seeing the commendable project impact to the IP community, AGAK has plans to replicate the initiatives and interventions to the Region's other IP and small farmer agricultural communities, carrying on its mission of responding sensitively and efficiently to the needs of this vulnerable sector.
Written by: Ann Jelie T. Reyes
Edited by: Anne Marie Jennifer E. Eligio