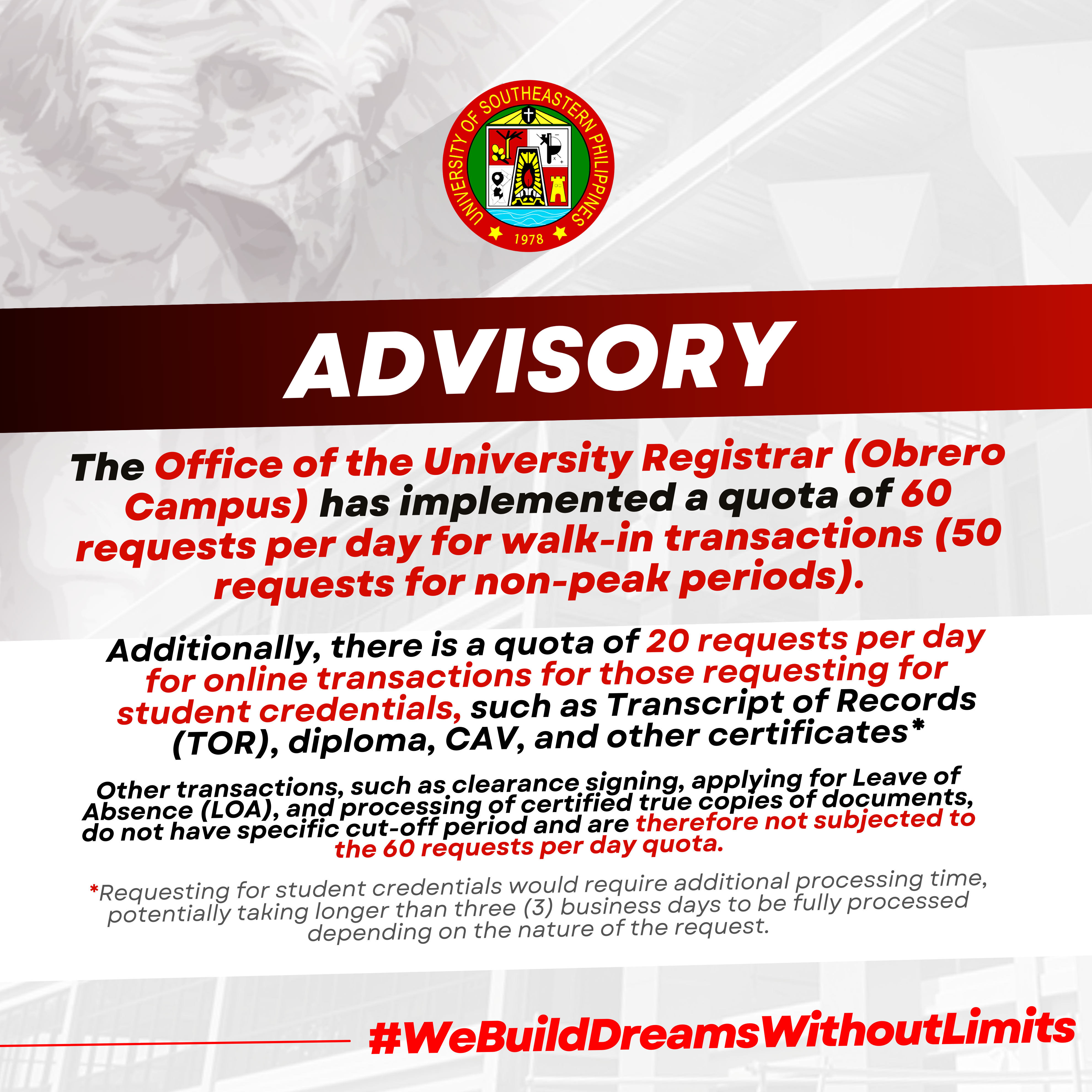 [𝗔𝗗𝗩𝗜𝗦𝗢𝗥𝗬] In response to the high volume of daily requests we receive during the months of July to August (peak period), the Office of the University Registrar (Obrero Campus) has implemented a quota of 60 requests per day for walk-in transactions (50 requests for non-peak periods).
Additionally, there is a quota of 20 requests per day for online transactions for those requesting for student credentials, such as Transcript of Records (TOR), diploma, CAV, and other certificates that would require additional processing time, potentially taking longer than three (3) business days to be fully processed depending on the nature of the request.
By implementing this quota, we can achieve a well-balanced workload for our team, guaranteeing that every client's request receives the required attention. Moreover, the quota serves as a constant reminder for us to maintain a 100% compliance with the stated timeliness in delivering our services, as outlined in our Citizen's Charter.
Other transactions, such as clearance signing, applying for Leave of Absence (LOA), and processing of certified true copies of documents, do not have a specific cut-off period and are therefore not subjected to the 60 requests per day quota.
We take immense pride in delivering exceptional services to our clients, a fact substantiated by the consistently high ratings we receive in our monthly client satisfaction surveys. Central to our commitment to excellence is our practice of providing special consideration for clients with unique circumstances, such as those residing outside Davao City (for verification), pregnant women, elderly individuals, and persons with disabilities. We ensure that these clients receive prompt attention and are treated with the utmost respect, guaranteeing that their needs are addressed.