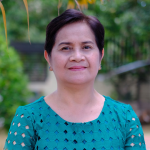 With the recent development of the COVID-19 pandemic in the Region, the University Administration is sending a message of light and hope to everyone. In this tough time, we should rise together in unity above adversity and face this challenge head-on.
The University Administration is doing its best to extend help in support of our national and local governments in the fight against COVID-19. Rest assured that USeP will stand unshaken in its intention to secure the safety of its constituents.
This online portal highlights the University's initiatives supporting our government in the fight against COVID-19. The University, through its different Offices, crafted and implemented measures to prevent the acquisition and spread of the virus and to help alleviate its effects. The strong leadership of the Top Management and Middle Managers and the support of the rank and file employees made all these initiatives possible. We believe that only by fighting together can we win this battle. Through this portal, the University is sharing to everyone the message of hope in unity.
On behalf of the Administration, I would like to thank all of those who have gone beyond the call of duty to ensure the health and safety of our students, faculty and staff at our campuses in Obrero, Mintal, and Tagum-Mabini. 
I thank all University personnel for keeping our core educational mission intact as much as possible by exercising flexibility in adapting to the alternative measures in the delivery of instruction and administrative services and in strengthening the spirit of resilience as one USeP community.
I am also grateful to the students who remain understanding of the University's imperfect response to some of your circumstances. Rest assured that the Administration is, first and foremost, mindful of your situations. With our collective efforts, we will be able to respond better as new developments and recommendations emerge due to the COVID-19 crisis. 
I also give my sincerest gratitude to all those who unselfishly shared their blessings – in cash and in kind – which enable the University to reach and be of service to its constituents and to more frontline workers in the Davao Region. 
We believe that it is not long until we find the light in the end of this seemingly endless tunnel of darkness. Until then, let us uphold optimism. May we come together as one and win for all.