Part of the fulfillment of USeP's thrust as indicated in the Batas Pambansa Bilang 12 is to provide programs of instruction and professional training primarily in the fields of science and technology, especially in the field of medicine. With this commitment, USeP planned to put up a state-run medical school in the Region XI in 2015 to fulfill the country's need of medical doctors.
Through the Republic Act (RA) 11509, also known as the Doktor Para sa Bayan Act, which aims to establish a Medical Scholarship and Return Service (MSRS) program for deserving students in state universities and colleges (SUCs), the vow became a commitment. The commitment was translated into plans as the administration included the offering of Doctor of Medicine program in its Catch-UP Plan.
As such, the School of Medicine was established with these goals:
to address shortage of doctors in the Philippines, specifically in Region XI;
to develop professional physicians for the Philippine healthcare system that are at par with their ASEAN counterparts;
to provide affordable medical education to accommodate low income but deserving students in Region XI;
to produce professional physicians to the community equipped with community-based approach; and
To produce globally competitive medical researchers.
Ultimately, the goal of School of Medicine is to produce "medical doctors from and for the community".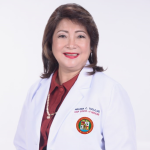 Melinda C. Tagle, MD, PhD
Dean
Welcome to the School of Medicine at the University of Southeastern Philippines! Here at SoM, we are dedicated to shaping the future of healthcare through education, research, and clinical excellence.
As you embark on your journey with us, you are entering a community committed to advancing medical knowledge, promoting compassionate service, and fostering the development of exceptional community physicians. Our school is a vibrant hub of intellectual curiosity, innovation, and collaboration, where students, faculty, and staff come together to push boundaries and make a lasting impact on the field of medicine.
At the School of Medicine, we firmly believe that education is the cornerstone of transformational healthcare. Our curriculum is designed to provide you with a comprehensive and rigorous foundation in medical sciences, clinical skills, and critical thinking. You will have access to state-of-the-art facilities, and a wide range of learning opportunities that will nurture your growth as a competent and compassionate doctor from and for the community.
Our distinguished faculty members are accomplished experts in their respective fields, who are dedicated to imparting their knowledge and experience to you. They will serve as your mentors, guiding you through your academic journey, and inspiring you to pursue excellence in everything you do. Additionally, our network of clinical partners and affiliations will offer you valuable hands-on experiences, enabling you to apply your skills in real-world healthcare settings.
I am confident that your time at the School of Medicine will be transformative, both personally and professionally. The challenges you encounter will shape your resilience, the knowledge you acquire will broaden your perspectives, and the relationships you build will last a lifetime. Together, we will strive to make a positive impact on healthcare, and create a healthier future for all.