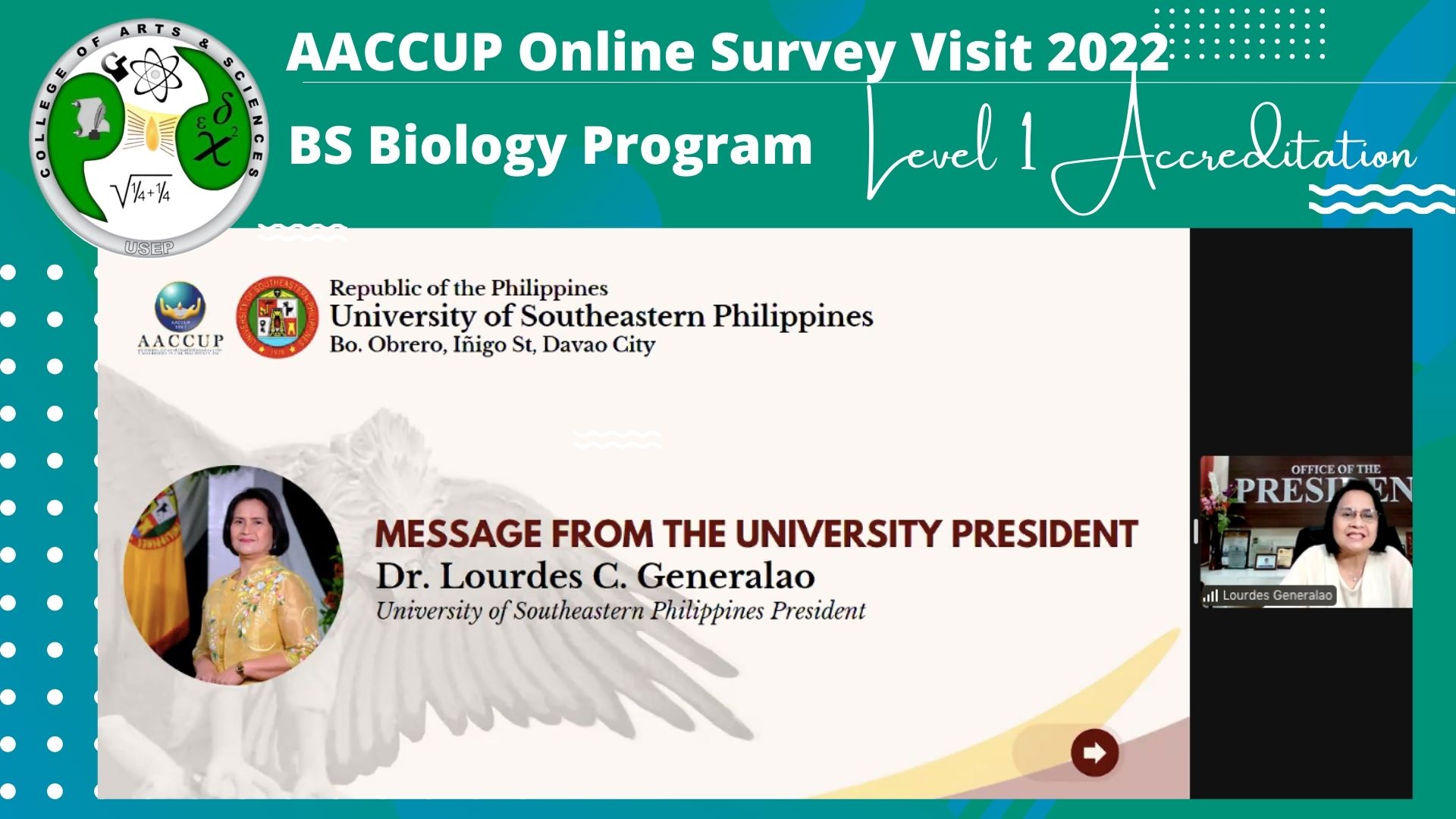 The Bachelor of Science in Biology Program of the College of Arts and Science (CAS) undergoes an online Level 1 Survey Visit by the Accrediting Agency of Chartered Colleges and Universities of the Philippines (AACCUP). The online survey visit, which will be from July 18-22, 2022, is part of the thrust of CAS for continuous quality assurance in line with USeP's vision, mission, and goals.
USeP President, Dr. Lourdes C. Generalao, welcomed the AACCUP Accreditation Team with VP for Academic Affairs, Dr. Bonifacio G. Gabales, Jr., CAS Dean, Dr. Ana P. Ocenar, CAS Associate Dean Joy R. Risonar, BS Biology Program Head, Dr. Majella G. Bautista, CAS Quality Assurance Head, Ms. Sheila Grace Europa along with CAS Administrators and Heads, faculty and staff.
The AACCUP Accreditors for the program survey of the BS Biology Program is composed of Overall Coordinator, Dr. Riceli C. Mendoza of the University of Southern Mindanao, Team Leader, Dr. Richard F. Clemente of Bulacan State University, Team Members, Dr. Jenina V. Tolentino of Laguna State Polytechnic University, and Prof. Isabel Noreen R. Rairata of Saint Louis State University.
The Accrediting Agency of Chartered Colleges and Universities in the Philippines (AACCUP) is the accrediting body of curricular programs of state universities and colleges in the Philippines.