College News and Events

The College of Arts and Sciences sent a team of faculty and staff to Barangay Baganihan, Marilog, last March 25, 2022, for a site visit and exploratory talks with key informants from the 1105th CDC, 11th RCDG ARESCOM, Col. Alvin S. Aspiras, Maj. Manuel S. Gatus Jr. and Commandant Msg. Gaveson D. Iba for the "Adopt-a-Laangkawal" Extension Project of the college. The project will entail livelihood innovation through facilitated extension to the community and enhance the skills, knowledge, values of the reservists and the regular members in support of their sworn duty in the Army. The activity was conducted through a Stepping Stone participatory planning approach to safeguard the interests of potential beneficiaries in the development process and recognize the rights of indigenous peoples to participate actively in planning their futures. In this way, the activity would be able to optimize the preparation of plans where the local community is encouraged to think about their knowledge and lived experiences in relation to the proposed project. The CAS Extension Team included Project leader/ILCA Director Allan H. Navales, College Extension Coordinator, Marilou P. Suazo, College Research Head, Ms. Judee Nogodula, NSTP/ ROTC Director Mr. Richard Aceron, LLD Program Head Mr. Virgil Torremocha, and faculty members Francis N. Reginio, Reah Izza T. Paglinawan, Mr. John Riz Bagnol, Mr. Paul Yves Montero, Mr. Daryl Salas and Ms. Diodeth Apas. The college's proposed "Adopt-a-Laangkawal" Extension Project is a result of the successful Health and Wellness for Reservists webinar conducted by the college last December 10, 2021.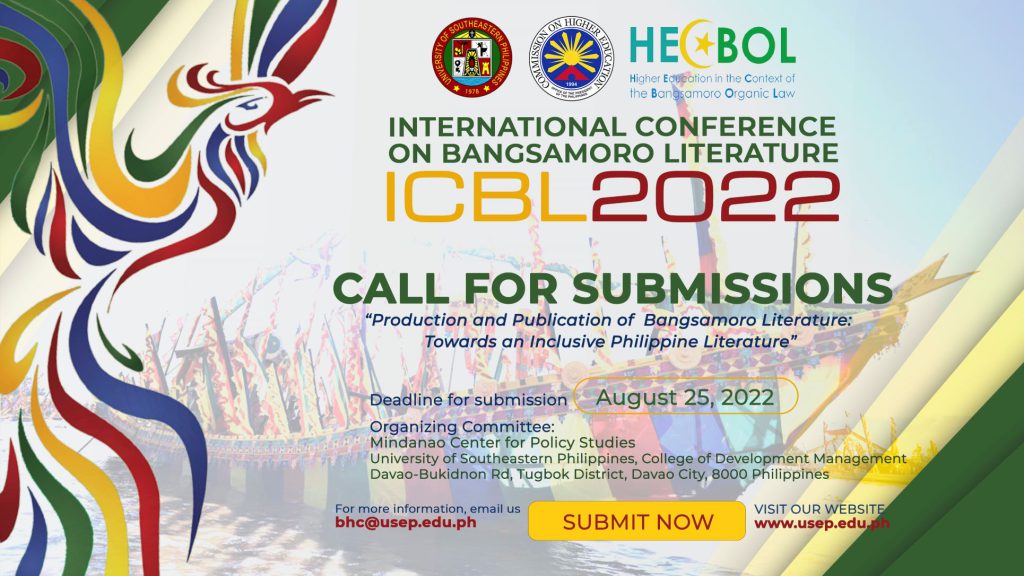 [𝗖𝗔𝗟𝗟 𝗙𝗢𝗥 𝗦𝗨𝗕𝗠𝗜𝗦𝗦𝗜𝗢𝗡𝗦] The University of Southeastern Philippines encourages creative and academic Bangsamoro-affiliated writers to share their literary works to...
Read More