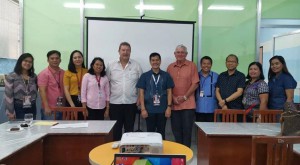 The University of Southeastern Philippines (USeP), through the College of Education (CEd), discussed future collaborations with the Australian Foundation for Fostering Learning in the Philippines (AFFLIP) along with the Department of Education (DepEd) Talomo District through a consultation meeting last March 5, 2020 at the CEd conference room.
AFFLIP is a non-government and non-for-profit organization based in South Australia which focuses on supporting the learning of students in poorly resourced schools which have a large number of educationally disadvantaged students. The organization has been supporting 15 public schools in Talomo District, Davao City.
The said meeting aimed to discuss future collaborations of DepEd Talomo District and USeP in both research and extension given that both institutions have previously collaborated in the implementation of Outdoor Learning Environment Program (OLEP), one of the flagship programs under AFFLIP.  It was attended by Mr. Alastair "Ali" Douglas, AFFLIP Board Chair; Mr. Max Greenwood AFFLIP Board Member; Dr. Hazel N. Linaza, DepEd Region XI Talomo District Special Programs In-charge and other DepEd representatives; and faculty representatives of the College of Education headed by the College Dean, Dr. Reynaldo M. Nogodula.
As part of its goal to create a proactive research-based economic empowering extension services, the University ensures that collaborative efforts with its partners shall be made.