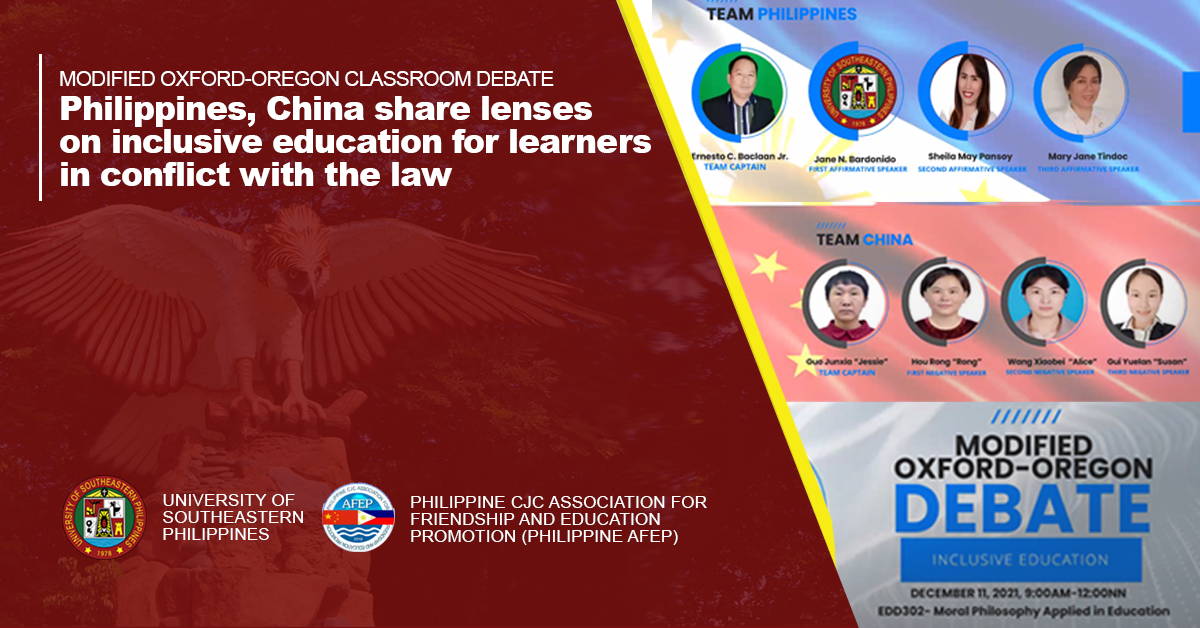 Should learners in conflict with the law have education in an inclusive setting as part of their rehabilitation?
This was the proposition of the classroom debate between two (2) Doctor of Education (EDD) classes of the University of Southeastern Philippines (USeP) handled by Professional Lecturer Dr. Edna H. Jalotjot under the Moral Philosophy Applied in Education on December 11, 2021.
The debate was part of Dr. Jalotjot's methodology in facilitating the discussion of one of the special topics in the course syllabus, which is the right to education. The debate encouraged the two classes, which were categorized as two (2) teams – Team Philippines and Team China, to exchange thoughts, concepts, theories, legal bases, and the likes from the perspective of their respective countries.
Team Philippines debated as affirmative, which argues for the preposition, was composed of Ernesto Baclaan, Jr. as the team captain with his members, namely: Jane Bardonido, Sheila Mae Pansoy, and Jane Tindoc while Team China debated as negative, which argues against the preposition led by Guo Junxia as the team captain, with Huo Rong, Wang Xiaobel, and Gui Yuelan, as members.
The said Chinese students are enrolled in the University's EDD program through the engagement of the Chinese Academic Institutions through the Philippine CJC Association for Friendship and Education Promotion (Philippine AFEP) with USeP.
The Board of Adjudicators was composed of Dr. Salvacion C. Olinares (Chairperson), Supervising Education Program Specialist, Inclusive Education Division of the Bureau of Learning Delivery – Department of Education, Pasig City; Dr. Leonardo B. Pongos, Deputy Director of Mindanao eLearning Space (USeP); and Dr. Adora P. Zerrudo, Deputy Director of Teacher Training and Research Center (USeP).
After deliberation, Team Philippines was declared the winner with Sheila Mae Pansoy of Team Philippines as the Best Speaker and Gui Yuelan of Team China as the Best Debater.
Earlier in the program, USeP Vice President for Academic Affairs, Dr. Bonifacio G. Gabales, Jr. commended the EDD 302 – Moral Philosophy Applied in Education classes for supporting the University's efforts in promoting internationalization programs by coming up with a joint class activity.
By Lorenzo I. Balili, Jr., EDD 302 Student