The ECE 224 Class (Assessment of Early Childhood Learning} under the Master of Education in Early Childhood Education Program of the USeP Graduate School of Education spearheaded a Virtual Forum in Assessing Young Learners' Developmental Milestones in the New Normal Landscapes on November 5, 2022 from 8:00AM-10:00AM via Zoom. This event is in collaboration with the Department of Education (DepEd)-RXI and Learning through Exploration and Active Participation (LEAP) Education Group in Singapore.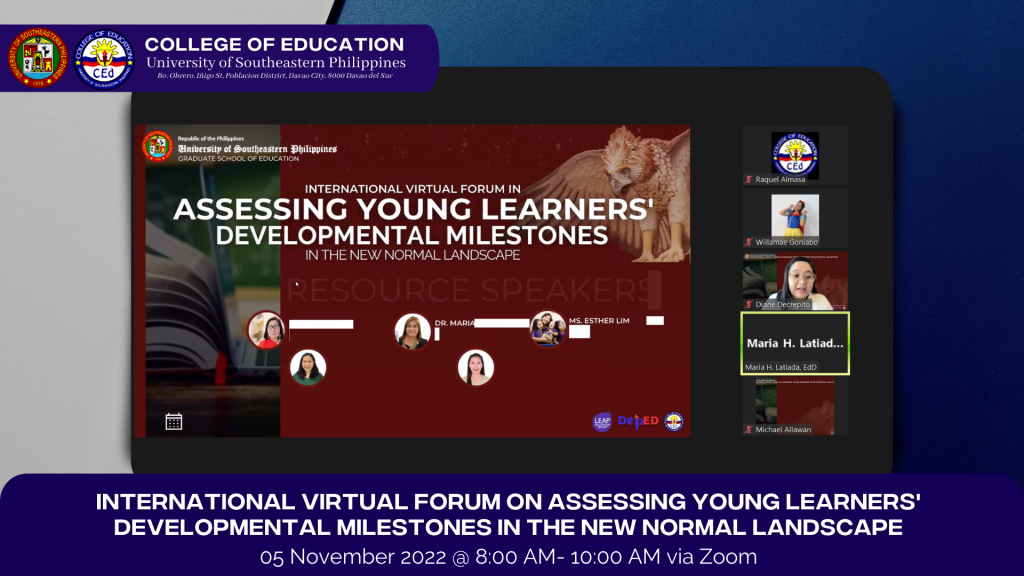 The forum intent to offer insights about the recent trends, emerging issues, and challenges in the field during the new normal setting. Also, it provides a platform for the discussion of the reassessment of the strategies employed in the classroom given the changing educational needs of the new normal educational set-up.
The event was graced by various local and international speakers as follows: Dr. Janete B. Esteban, Education Program Supervisor of Department of Education-Davao City Division; Dr. Ma. Luisa H. Latiada, School Principal from Jose Bastida Elementary School; Ms. Esther Lim, CEO/Founder of the LEAP Education Groups in Singapore; Ms. Gloryfel A. Lubaton, school owner of Tots Garden Early Childhood Center; and Ms. Haifa A. Abdusalam, Kindergarten teacher at Jose Divinagracia, Sr. Elementary School.