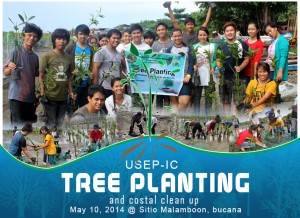 With our environment's present critical condition, the Institute of computing has made a move by turning their public intentions into action and has thus initiated a tree planting activity with the cooperation of CENRO Davao. More than 50 volunteers, both students and faculty members from the Institute of Computing, planted 1000 mangrove propagule at Sitio Malamboon, Bucana, Davao City last May 10, 2013.
Prior to the activity, student representatives from Institute of Computing coordinated with CENRO and complied with the requirements for conducting such activity. After which, a representative from CENRO briefed the participants about the importance of mangroves to the eco-system and marine life. He also classified the different types and parts of mangrove, and the proper way to plant it. At the end of the orientation, the team hauled more than 20 sacks of garbage for the coastal clean-up activity. Finally, the volunteers from the Institute of Computing started planting mangroves on the shoreline of Sitio Malamboon.
The mangroves planted on those areas are believed to provide a natural barrier to erosion and would help salvage the land through its complex root system. The roots of the mangroves are also known to offer protection to many species of insects and fishes.
The tree planting event ended successfully. Participating in environmental programs can help preserve, protect, and nurture the natural resources in the community. As such, more efforts should be made to encourage the youth to be more environmentally aware.