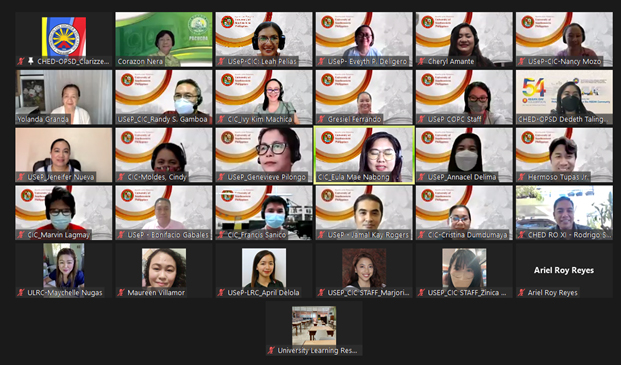 Pursuant to CHED Memorandum Order (CMO) no. 14, series of 2019 on Policies and Guidelines in the Issuance of Certificates of Programs Compliance (COPC) to State Universities and Colleges (SUCs) and Local Universities and Colleges (LUCS), the University of Southeastern Philippines (USeP), through its Technical Committee for Library and Information Science (TCLIS), conducted a remote evaluation and validation for the offering of the Master of Library and Information Science (MLIS) at the College of Information and Computing (CIC) on August 18, 2019.
Two of the country's seasoned librarians were invited as technical committee members, namely: Hon. Yolanda C. Granda, current Chairperson of the Board for Librarians; and Corazon M. Nera, Director of Academic Resource Center of the Lyceum of the Philippines University, and member of Board of Librarians.
Delegates from the Commission on Higher Education Region XI headed by Engr. Rodrigo S. Pangantohan, Jr., Education Supervisor; and Remedios S. Talingdan, Education Program Specialist II, Standards Development Division- Office of Programs and Standards Development (SDD- OPSD), provided technical assistance during the remote visit.
The revision of the Master of Science in Library Information Science (MSLIS) curriculum served to respond to the new demands of time, and follow the policies and guidelines for graduate program stipulated in the CMO 15, series of 2019 and Republic Act 9246, an act modernizing the practice of librarianship in the Philippines.
According to the processing and evaluation report of the TCLIS, USeP- specifically the MLIS program- met all the requirements on the areas for review. TCLIS also recommended and endorsed the MLIS program with strong suggestions on enhancing the syllabus on Archives and Records Management and making the library the laboratory for conservation and preservation.
Hon. Granda, in her assessment, lauded the efforts made by the University in including the Library and Information Science (LIS) in the program offerings. This is a good indication that LIS will continue to spread and provide value on the importance on preserving, conserving, retrieving, accessing, and valuing information. The University's top management led by the president, Dr. Lourdes C. Generalao, showed support for the endeavors of the CIC during the said remote evaluation.
The offering of the program will address the shortage of qualified librarians in the country. MLIS will be offered in the first semester of the school year 2022-2023.