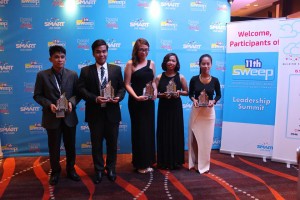 The Information Technology (IT) students of the University of Southeastern Philippines (USeP) bagged the Smart Wireless Engineering Education Program (SWEEP) Innovation and Excellence Awards in this year's competition, SWEEP Open: Smart DevNet Innovation. It is a mobile apps development competition opened to all undergraduate students.
Participants from various schools and universities nationwide created applications that will address consumer needs as it would be introduced in the market.
The contenders registered and submitted their final and complete entry online which was scrutinized with the criteria for judging that included relevance (market need) and potential business model – 40 percent; user experience (design and ease of use) – 25 percent; and innovation (technology to be implemented in the product) – 35 percent.
Following competition mechanics, all entries went through blind screening in selecting the five apps, and USEP Institute of Computing (IC) students proudly notched all top five entries as chosen by SMART. Among the winning applications are TextPlus, The Adventures of Juan, AutoFix, SOSApp, and Food Travel.
The USeP students, viz: Jason Christopher Uy, Zanneth May Dinopol, Janda  Samantha Magno, LouellaJaneCatilosa and Quincy John Sacdalan, with Engr. Cristina E. Dumdumaya, Faculty of IC, Dr. Tamara Cher R.Mercado, Dean of IC, and Dr. Perfecto A. Alibin, USEP President, went to the Raffles Hotel in Makati City on February 12 to receive the awards and cash prizes.
The University welcomes competitions that give opportunities to creative and passionate students to showcase their talents when it comes to innovation.