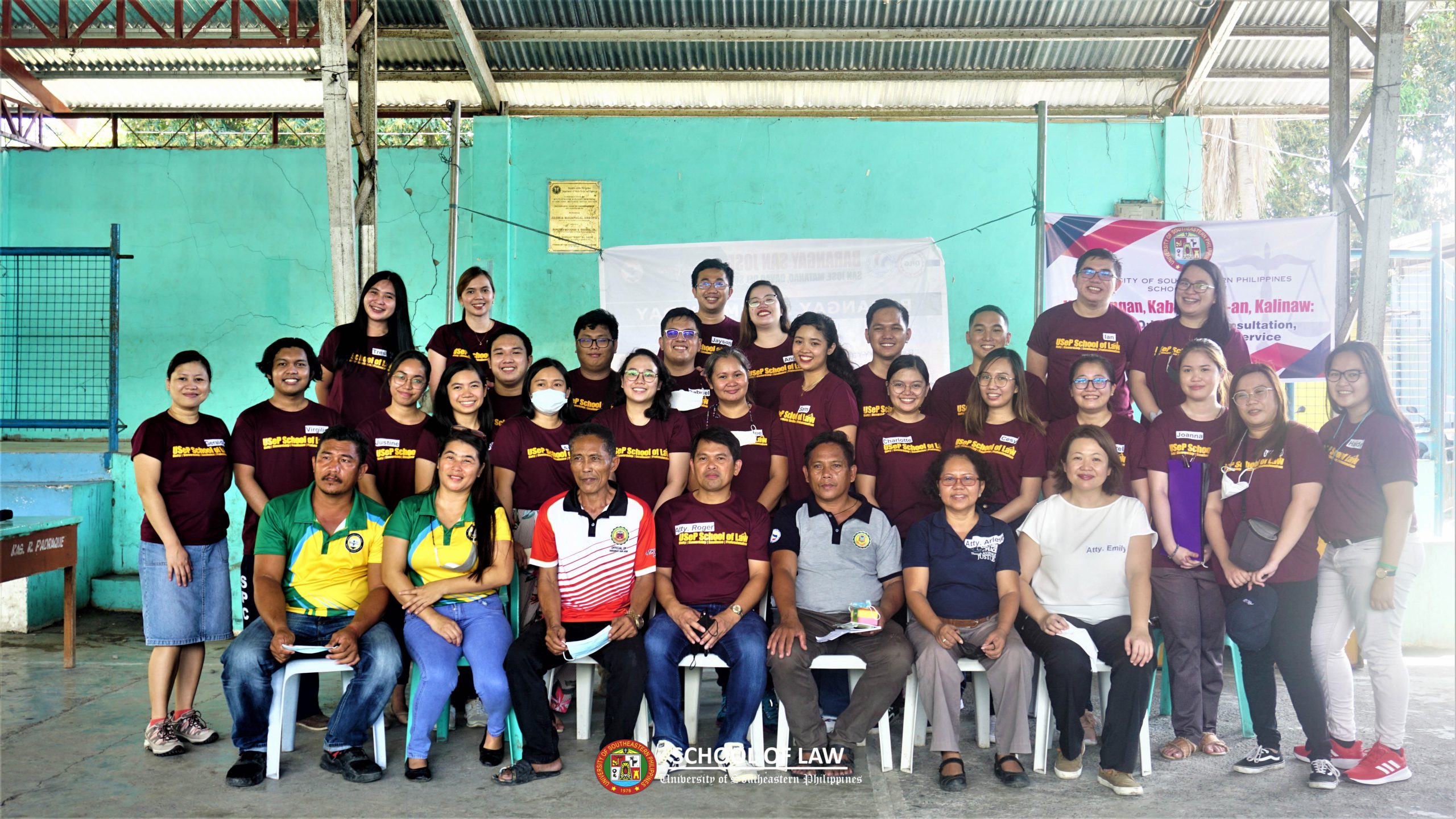 DAVAO DEL SUR, PHILIPPINES—As part of the initiative of the University of Southeastern Philippines School of Law (USeP-SoL) to champion its mission of providing efficient and conscientious legal service to the community, the third-year students of the USeP-SOL Juris Doctor Program conducted a legal aid mission titled, "Katarungan, Kababayen-an, Kalinaw: A Public Orientation, Consultation, and Community Legal Service" on December 20, 2021, at Barangay San Jose, Matanao, Davao del Sur.
"Kining Community Legal Service gipahigayon sa University of Southeastern Philippines School of Law, aron sa paghatag og tunhay, bug-os ug kinasing-kasing nga serbisyo sa katawhan dinhi sa Barangay San Jose, Matanao Davao del Sur. Kining pagabuhaton nga Legal Aid Mission nahimo ubos sa ginatawag nga Clinical Legal Education Program (CLEP) sa USeP School of Law. Ang atong mga estudyante sa USeP School of Law adunay Level-1 Court Certification. Kining mga estudyante sa USEP School of Law andam na magpa-ambit sa ilang kaalam, talento, ug pagpangalagad aron maghatag og public legal orientation ug legal advice pinaagi sa community legal service. Malipayon ako nga kini nahimong posible pinaagi sa aktibo nga partisipasyon sa pioneering batch sa USeP School of Law, " said Atty. Rogelio Largo of the USeP School of Law, emphasizing that the Legal Aid Mission was initiated by the USeP-SoL under the Clinical Legal Education Program (CLEP), where students with Level 1 Court Certification assume the noble task of rendering their knowledge, skills, and talents in providing genuine, pure, and conscientious service for the people of the aforesaid barangay.
Pursuant to Section 2, Rule 138-A of the Rules of Court, the Clinical Legal Education Program is an experiential, interactive, and reflective credit-earning teaching course with the objectives of providing law students with practical knowledge, skills, and values necessary for the application of the law, delivery of legal services and promotion of social justice and public interest, especially to the marginalized, while inculcating in the students the values of ethical lawyering and public service.
The following activities were conducted simultaneously: (1) Lecture-Seminar on the Barangay Justice System (the Katarungang Pambarangay Law under Republic Act No. 7160) led by Mrs. Haidee Temblor (Speaker, USeP School of Law) ; (2) Lecture-Seminar on the Laws related to Women and Children (Republic Act 9262 Anti-Violence Against Women and their Children (VAWC) Act of 2004, Anti-Sexual Harassment Act of 1995 and Safe Spaces Act) led by Mrs. Geraldine B. Sumamban (Speaker, USeP School of Law); and (3) One-on-one Legal Consultation led and facilitated by Mr. Juan Antonio Mendoza (Governor, USeP School of Law Student Council.)
Anti-VAWC Law Lecture Seminar
The Anti-Violence Against Women and Children Act of 2004 (Anti-VAWC Law) is a law that was enacted to provide protection to women and children from all forms of abuse. As stipulated in Section 2 of Republic Act No. 9262, "the State values the dignity of women and children and guarantees full respect for human rights. The State also recognizes the need to protect the family and its members particularly women and children, from violence and threats to their personal safety and security."
Pursuant to the aforesaid law, violence against women and their children "refers to any act or a series of acts committed by any person against a woman who is his wife, former wife, or against a woman with whom the person has or had a sexual or dating relationship, or with whom he has a common child, or against her child whether legitimate or illegitimate, within or without the family abode, which results in or is likely to result in physical, sexual, psychological harm or suffering, or economic abuse including threats of such acts, battery, assault, coercion, harassment or arbitrary deprivation of liberty" (Section 3 (a) Republic Act no. 9262).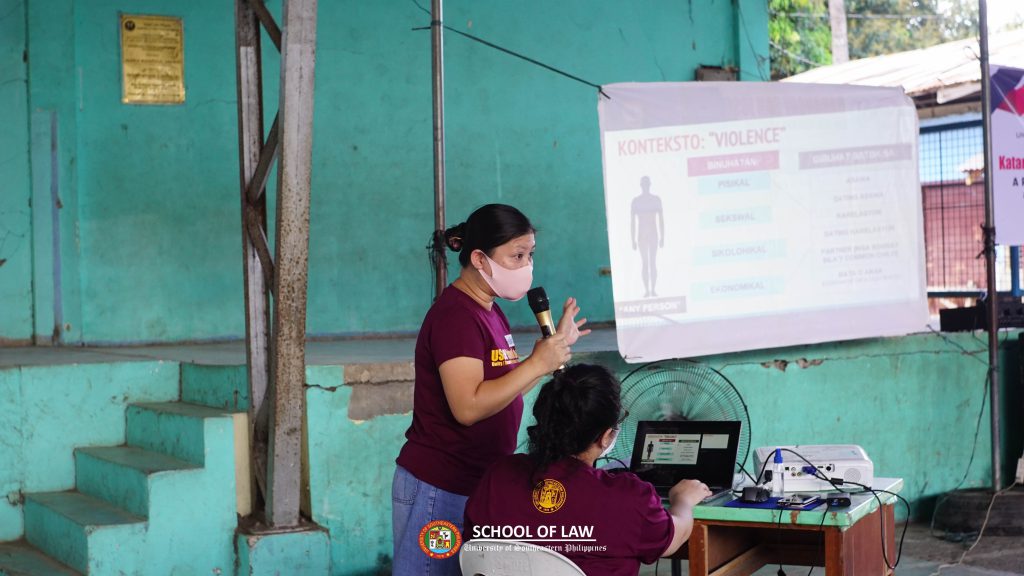 "Discussing a special law, particularly VAWC, to the women in a remote community is not only a privilege but also an opportunity to help them understand their rights as well as the rights of their children. In a world where men dominate not only in the workplace but also in the household, it is time to let the women empower themselves by helping them know how to stand in situations where they encounter abuses. With the information that the women acquired from the lecture, I can say that the community legal service that we conducted will never be put to waste. As a speaker, I am proud that I am part of it and I am proud of being a USePian law student," said Mrs. Geraldine Sumamban, lecturer-speaker of the VAWC Lecture Seminar.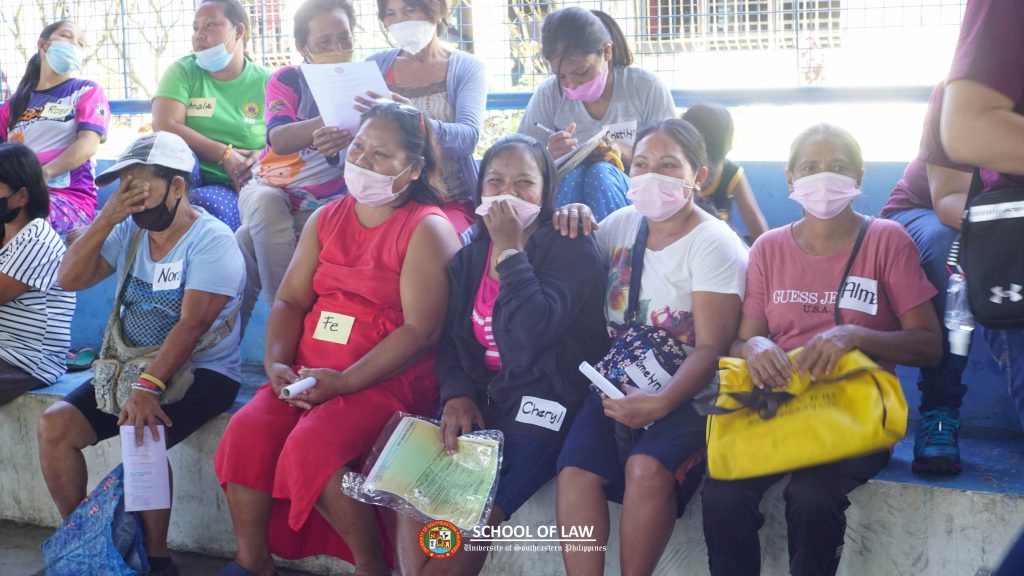 Katarungang Pambarangay Law Seminar
The Katarungang Pambarangay Law or the Barangay Justice System is a local justice system in the Philippines stipulated in Republic Act No. 7160 or the Local Government Code, where barangays are empowered to mandate and enforce peace and order and ensure the proper observance of laws that have been enacted to promote human rights and justice. The Katarungang Pambarangay is an alternative venue for the resolution of disputes that fall under the coverage of the aforesaid law. One of the noble goals of the Katarungang Pambarangay Law is to provide effective mechanisms that aid in the administration of justice and protection of human rights using non-adversarial means, to achieve conflict-mediation and conflict resolution at the barangay level.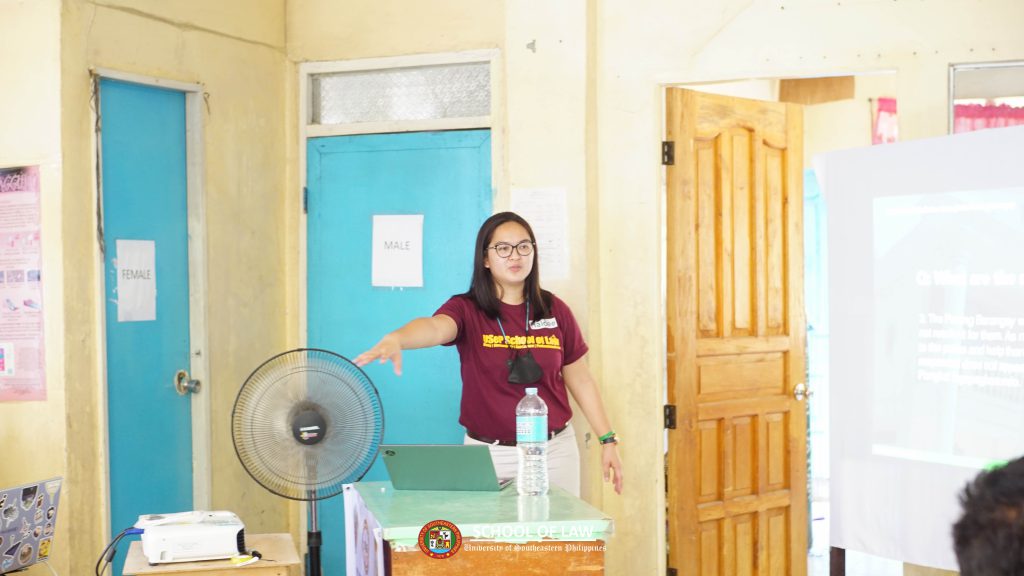 "Given the chance to immerse myself with the community, I realized that no matter how good the law is, if the people vested with the power to implement are not equipped with the proper skills and knowledge, the intent of the law will not serve its purpose for the citizens to whom the law was made in the first place. In order to build the trust and confidence of the community that justice will be served accordingly, it is of great importance that the implementers of the Katarungang Pambarangay are well-versed on how the law is supposed to function. And at the same time, to maintain a good check and balance to the system, the citizens must likewise be conscious not only of their existing rights under the law but more importantly on how they can properly assert these rights. As much as I became empowered with adequate knowledge while I was preparing as speaker for the Katarungang Pambarangay Law, I am hoping that the sharing of knowledge that we had will not only remain with the implementers themselves, but such will also transpire within the community and their constituents. In this manner, I will be assured that whatever spark we have started will continue to impact the community not only by improving awareness but also to shape them as experts of the Katarungang Pambarangay Law," said Mrs. Haidee Temblor, Katarungang Pambarangay Law Lecturer-Speaker.
Legal Consultation and Community Legal Service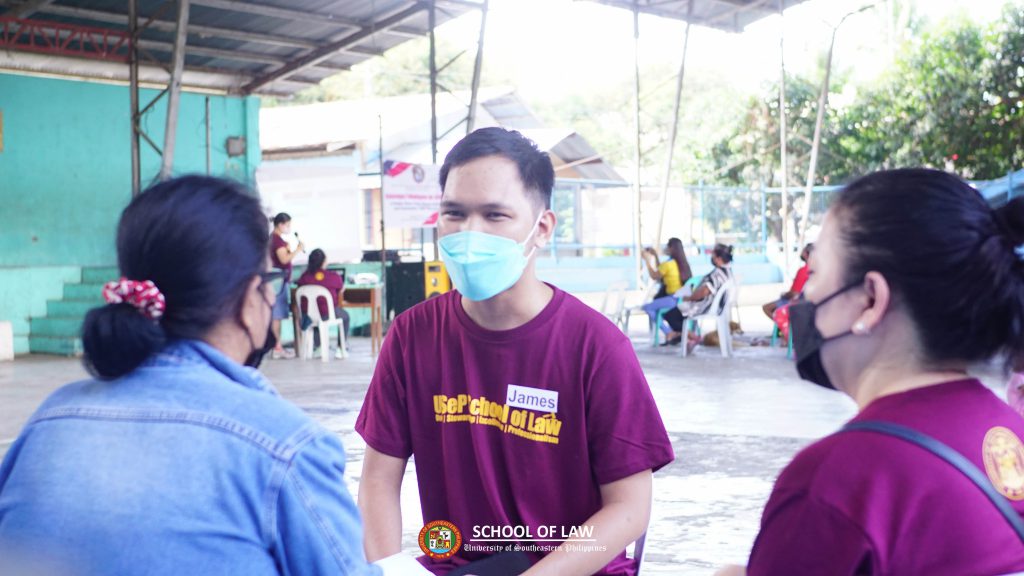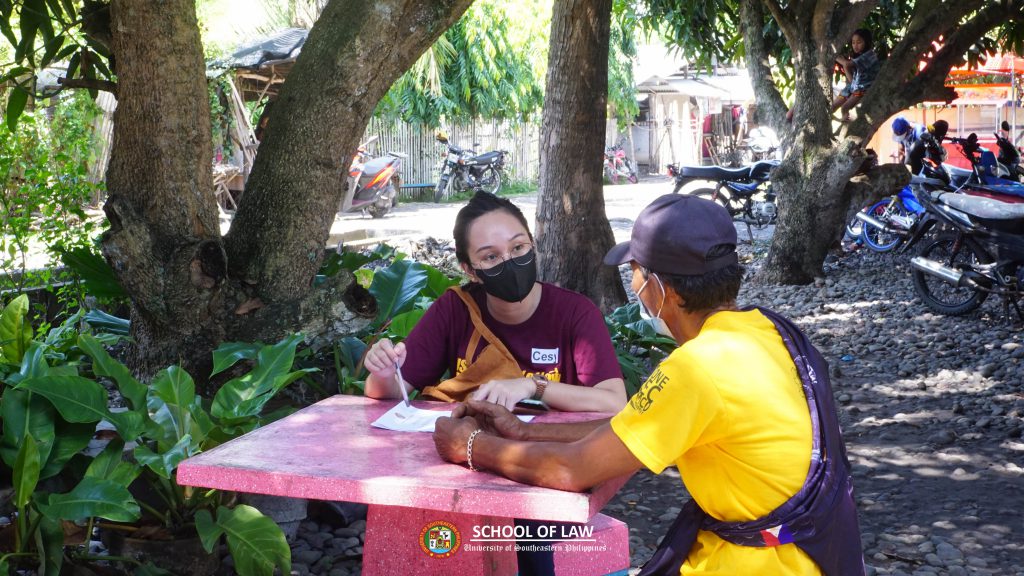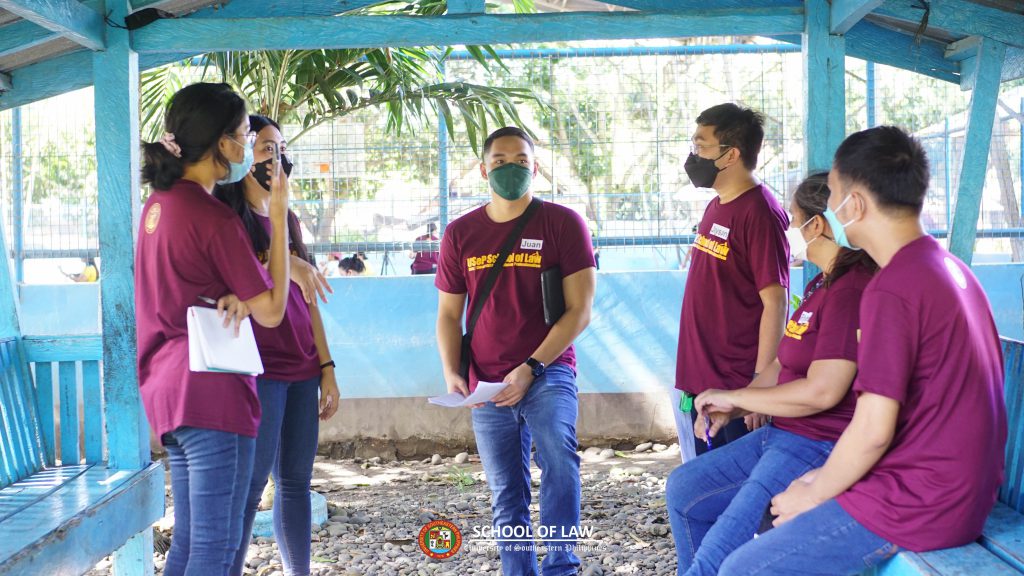 One of the objectives of the Community Legal Aid Mission is to provide legal services to the poor, marginalized, and vulnerable sectors of society through seminars and legal consultations.
"A lot of people regard the study of law as something dreadful. They hear stories of law students having sleepless nights, horrifying recitations, and "terror" professors. These rumors have some truth to them, but I believe that there is a good reason for it. I will never forget the day the week I was given my first case as a certified law student practitioner. I met with our group's clients and read all the relevant documents. At that moment, I felt a huge burden of responsibility fall on my shoulders. I understood that I was holding someone's life (or a part of it) in my hands. I understood that I needed to give my absolute best for my client every single time because one wrong step will cost my client everything. It is because of this responsibility that law students are put through such tough and demanding situations. On the day of our Legal Aid Mission, that same burden fell upon my shoulders. I knew then that I had so much more to learn and so much more to practice in order to give my future clients my absolute best," said Mr. Juan Antonio A. Mendoza.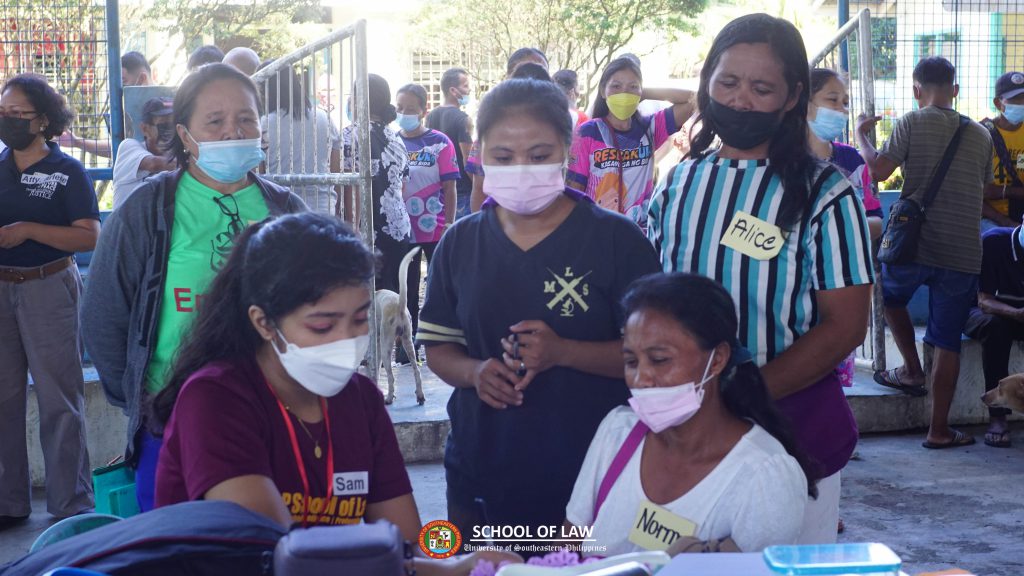 Almost 80 people took part in the simultaneous conduct of the Anti-VAWC Law Lecture Series, the Katarungang Pambarangay Law Lecture Series, and the Legal Consultation.
"There is more to life in this journey as learners of the law than the things we learn within the four corners of the classroom. Difficult times may come in our path as students, but we should always remember the very reason why we started this endeavor in the first place – that is, to use our legal knowledge to lend a hand to the least, to be the front liners in serving justice for the last, and to give guidance to the lost," said Samantha Racel Jeanne R. Galea.
The Legal Aid Mission ended with the Awarding of Certificates initiated by the Dean of USeP-SoL, Atty. Arlene L. Cosape, together with Atty. Emily Zen Chua, and Atty. Rogelio Largo.
"As the overall facilitator and Mayor of the class, it was a very heartwarming sight to see all of my classmates working together for the success of the event. It was indeed teamwork and grit, that got us through everything despite having around two weeks only to prepare for the event on top of preparing for our examinations. The event will always be a winning moment for us as law students because we got a glimpse of what we are preparing for when we graduate. The way that the people in the community welcomed us warmly, and listened intently to what we have to say about their problems that needed legal solutions, made my heart swell with pride and gratitude because serving and helping the people to the best of all our abilities has always been the purpose why we are determined to become lawyers someday. To sum up, it was an experience that is always worth all the hard work and hustle. I am already looking forward to organizing another legal aid mission again next year, hopefully, this would become a yearly event for the USeP School of Law already," said Ms. Angel Jean N. Domingo, Class Mayor of the USeP SoL.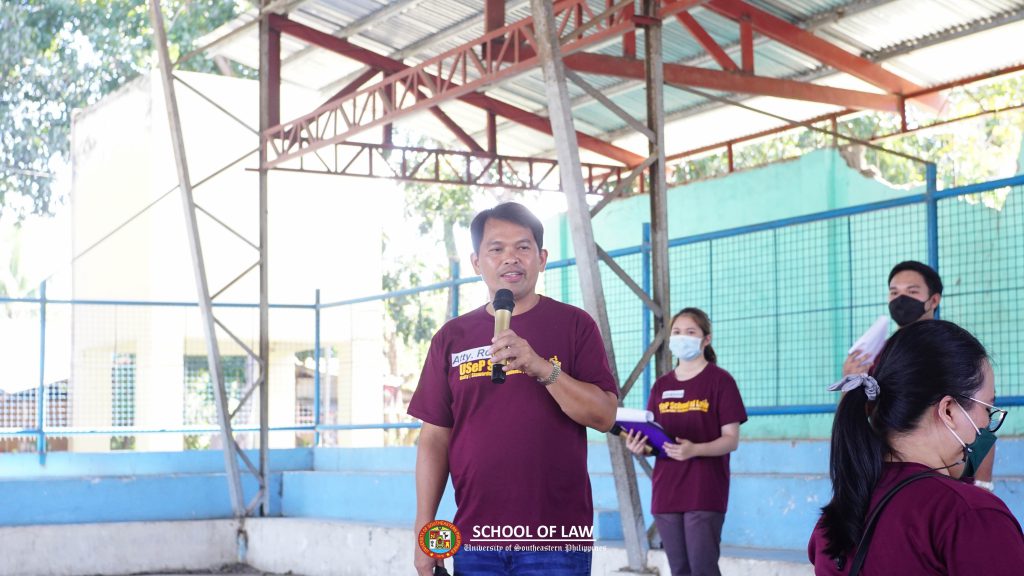 "Nagapasalamat ako kay Atty. Rogelio Largo, sa University of Southeastern Philippines School of Law, ug sa mga magtutudlo ug mga estudyante sa USeP alang sa ilang gipahigayon nga Community Legal Aid Mission. Pinaagi aning Legal Aid Mission, nahatagan na og tama nga panglantaw ug husto nga kasulbaran ang mga legal nga problema ug uban pang kasinatian sa mga lumulupyo dinhi sa Barangay San Jose," said Mr. Roel B. Torres, the Barangay Captain of the said municipality, showing gratitude to the USeP School of Law for conducting the Legal Aid Mission, that served as an avenue where the legal concerns of the community are placed in perspective and addressed accordingly.
The Legal Aid Mission has served as a good training ground for the USeP School of Law students to be exposed to the realities of the rigors of the discipline required in the practice of law. Through the Clinical Legal Education Program (CLEP), the students have prepared and equipped themselves with the necessary skills and knowledge needed to provide conscientious service to the people. The Law Student Practice under CLEP has been a great opportunity to apply legal education as well as to acquire wisdom, in preparation for the practice of law.
***
Editor: ANGEL JEAN N. DOMINGO; Head Writer:JOANNA PAULA M. CAGAPE; Contributors: MENDOZA, Juan Antonio A., MIRAFUENTES, Charlotte P. ABONAL, Maria Lou Isabel P.,BARROSO, Jon Carlow L.,BOISER, Virgilio IV A., BUSTAMANTE, Anne Georgette A.,CASANOVA, Jenny Mae I., CONDA, Ana Ultima G., DOLOR, Rhodilee Jean A., GALEA, Samantha Racel Jeanne R., IRAN, Jayson O., MACULBE, Tresha Hyacinth A., MAGUINDANAO, Da'ud A., MAYANGAO, Ian Jermie O., OLAER, Jezrel L., OLAYAN, Imma Coney P., PILLADO, Cesyl Faith A., PUNO, Jensen Marie O., RAFOLS, James Ray B., RIZON, Justine M., SUMAMBAN, Geraldine B.