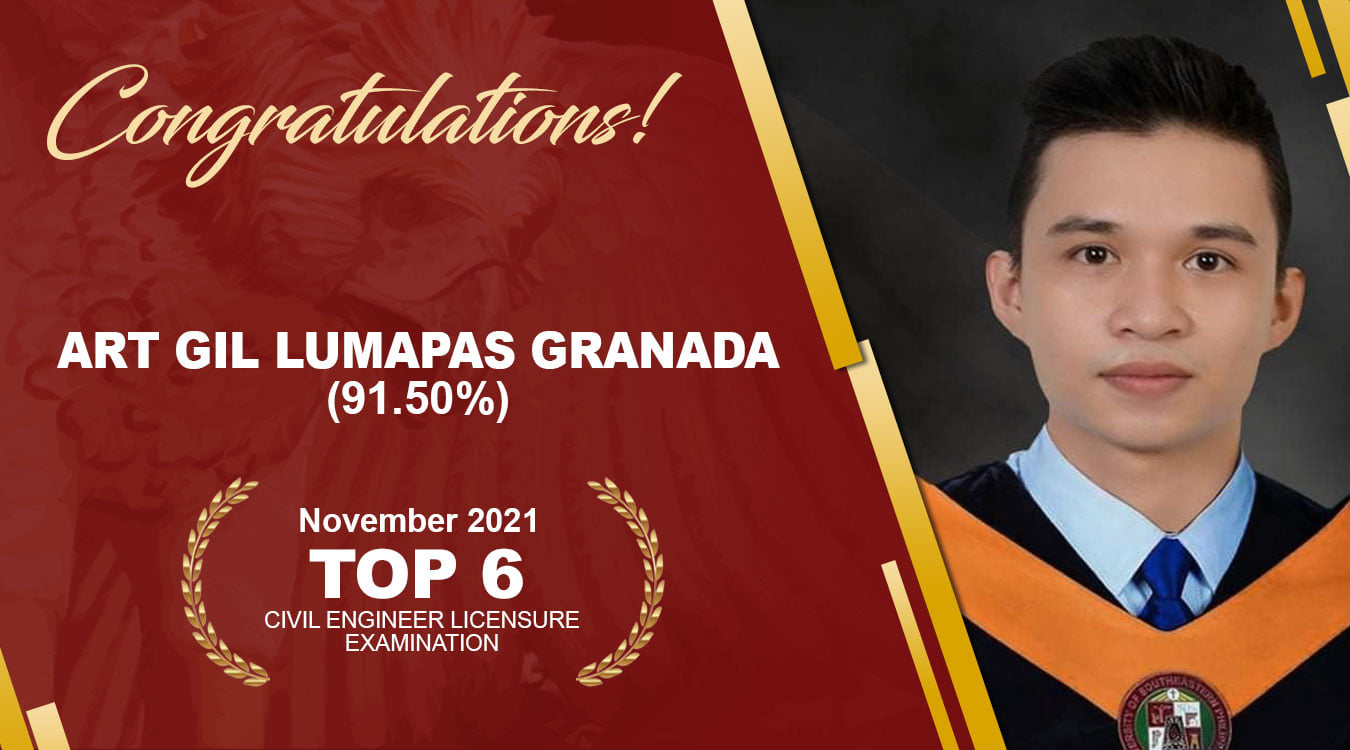 The University of Southeastern Philippines (USeP) Obrero Campus ranked 6th in the 2021 Licensure Examination for Civil Engineers conducted last November 14-15, 2021. Engr. Art Gil L. Granada is a graduate of the USeP, Obrero Campus – College of Engineering with ratings of 91.50%.
The University has garnered a 60% passing rate from 12 out of 20 first-time takers and an overall passing rate of 38.46%.
Successful examinees for the CELE from the University are as follows:
1 ABING, BEA GALE PELIGRINO
2 BASCO, ALLEN DAVE MANTE
3 BATISTIL, EHLOISA ANNE BUDIONGAN
4 CANQUE, CLEO FE DE LEON
5 CASTILLO, HONEY JANE BAYA
6 DE VERA, JOHN MICHAEL PAIG
7 DINSAY, RIAMIEH SERON
8 EBUGAN, CINDY ANN PORRAS
9 ESTUDILLO, JHARAE ROSARIO
10 GRANADA, ART GIL LUMAPAS
11 LAGO, DYRENNE JAYNE GAYLON
12 MANAYAN, JESSA GRACE WALAWALA
13 MONTE, RESURECION HIPONIA
14 MONTECILLO, REY MARK BARRETE
15 TEMPLA, KARLA MONICA HINGPIT
The Professional Regulation Commission (PRC) announced last November 24, 2021, that 2,374 out of 6,474 passed the Civil Engineer Licensure Examination given by the Board of Civil Engineering in Manila, Baguio, Cagayan de Oro, Cebu, Davao, Iloilo, Legazpi, Lucena, Pagadian, Rosales, San Fernando, Tacloban, Tuguegarao and Zamboanga.
For the full list of passers, visit this link: https://www.prc.gov.ph/article/november-2021-civil-engineer-licensure-examination-results-released-eight-8-working-days