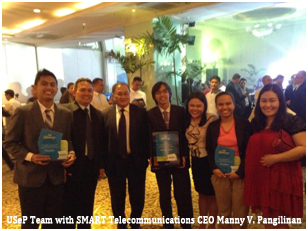 Along with other finalists, Comidoy and Faelnar presented their project's description, block diagram, target market, as well as a demo of their respective applications front of the competition's judges and some of the bigwigs in the country's I.T industry. SMART Telecommunications CEO Manny V. Pangilinan also graced the event during the Awards Night held at DusitThani Hotel, Makati City.
Colegio de San Juan de Letran's Switching and Monitoring System Using Android in Wireless Technology bested nine other teams for the competition's top prize.
The event was a culmination of SWEEP's search for innovative, community-based and sustainable applications; anchored on this edition's theme of "Technology in Nation-building". From a total of 112 entries from SMART SWEEP's partner schools across the country, the top ten ideas were shortlisted and their proponents were given an opportunity to learn from industry experts in a national bootcamp held last October 5, 2012 – serving as a final precursor for the national finals.
The achievementranks as the biggest crown jewel so farfor the Technopreneurship program that the Institute of Computing has been offering for the past two years. Prior to this, the institute has also been actively participating in local and regional Technopreneurship and tech innovation events.
With the amount of positive results the program has brought to the Institute and with the great head-start this SMART SWEEP award has provided, the IC teaching force expects nothing but further strengthening of the Institute's Technopreneurship foundation in hope of discovering more noteworthy student tech innovations in the future.