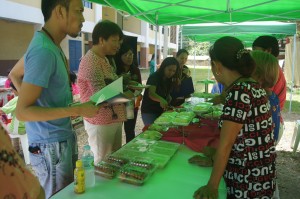 December 1, 2017 marked a milestone in the lives of some 35 entrepreneurial skills trainees who successfully completed the first phase of the training program which is a component of Alalay sa Barangay Program (ABP), the extension program of the College.  Partner-beneficiaries are members of the Barangay Council Women (BCW) of Barangay Centro, Agado District, Davao City.
Before the moving up ceremony, the participants showcased their cooking skills through a 'Market Basket' competition where they were given ingredients and were asked to prepare a dish of their choice. They also displayed some food products (mostly native delicacies) which they earlier made. They had attended several food processing sessions where our Hospitality Management faculty and students taught them how to prepare processed food, kakanin, and simple dishes.
After the showcase and judging, the moving up ceremony immediately followed. The trainees were given certificates for completing the first phase of the training program. Barangay Kagawad Harry Araneta attended the event on behalf of Punong Barangay Celeste G. Rin.
Kag. Araneta is grateful that some of their women learned how to prepare kakanin and other food products which they can turn into a livelihood program. He hopes that the skills they developed will be used to help their respective families. Ms.  Rowela Cateel, President of Barangay Council Women, thanked the College for helping their group. She affirmed that the food processing skills they gained during the training program is indeed a big help for the women in the barangay.
The Entrepreneurial Skills Training is one of the four components of the Alalay sa Barangay Program (ABP). The other projects are Financial Literacy and Leadership Training for Barangay Council Women; and the fourth component is Health and Sanitation dedicated to children and day care centers in the Barangay.
The College has an existing Memorandum of Agreement with Barangay Centro, Agdao District for the extension program. (RCDB)