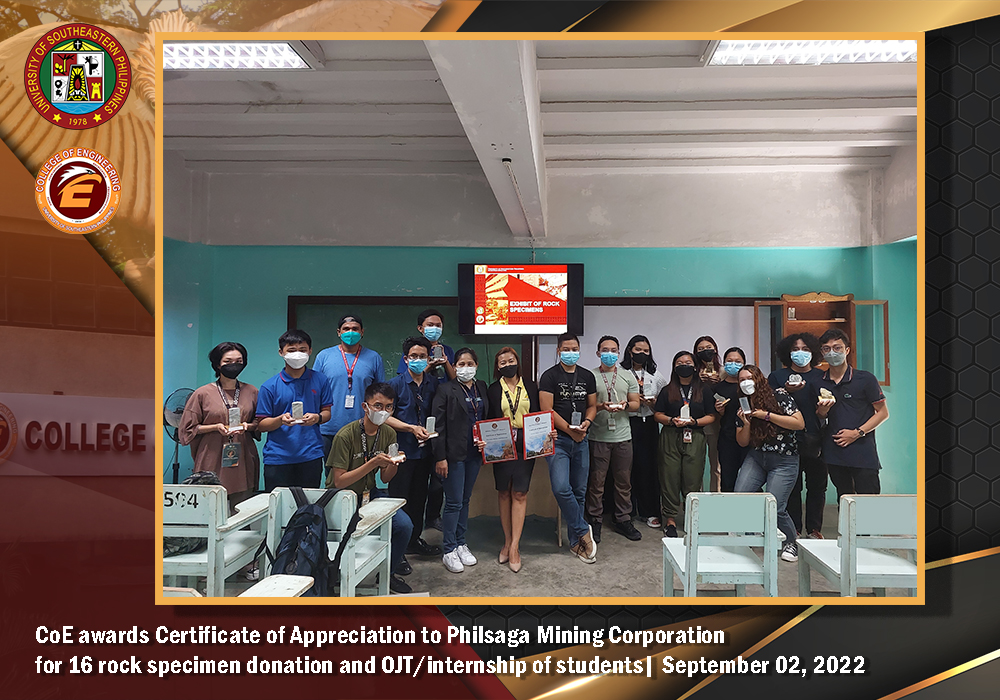 [𝐂𝐎𝐑𝐏𝐎𝐑𝐀𝐓𝐄 𝐒𝐎𝐂𝐈𝐀𝐋 𝐑𝐄𝐒𝐏𝐎𝐍𝐒𝐈𝐁𝐈𝐋𝐈𝐓𝐘] On September 02, 2022, the USeP-College of Engineering-BS in Geology Program extended their warmest gratitude by awarding certificates of appreciation to Philsaga Mining Corporation (PMC) for accommodating student-trainees and for PMC's generosity in donating sixteen (16) mounted rock specimens and a wall cabinet for the Geology Laboratory.
To highlight, PMC extended their technical expertise to two (2) BS in Geology student-trainees during their industry immersion in Rosario, Agusan del Sur from July 18 to August 06, 2022. The industry immersion enabled the students to be exposed to the actual processes and activities in mineral exploration, underground mining, and milling.
Conversely, the donated rock specimens by PMC now form part of the growing rock and mineral collection of the BS in Geology Program which are expected to boost the program's capacity in terms of enabling the students to be proficient in identifying and describing rocks and minerals and as a venue for promoting sustainable resource management.