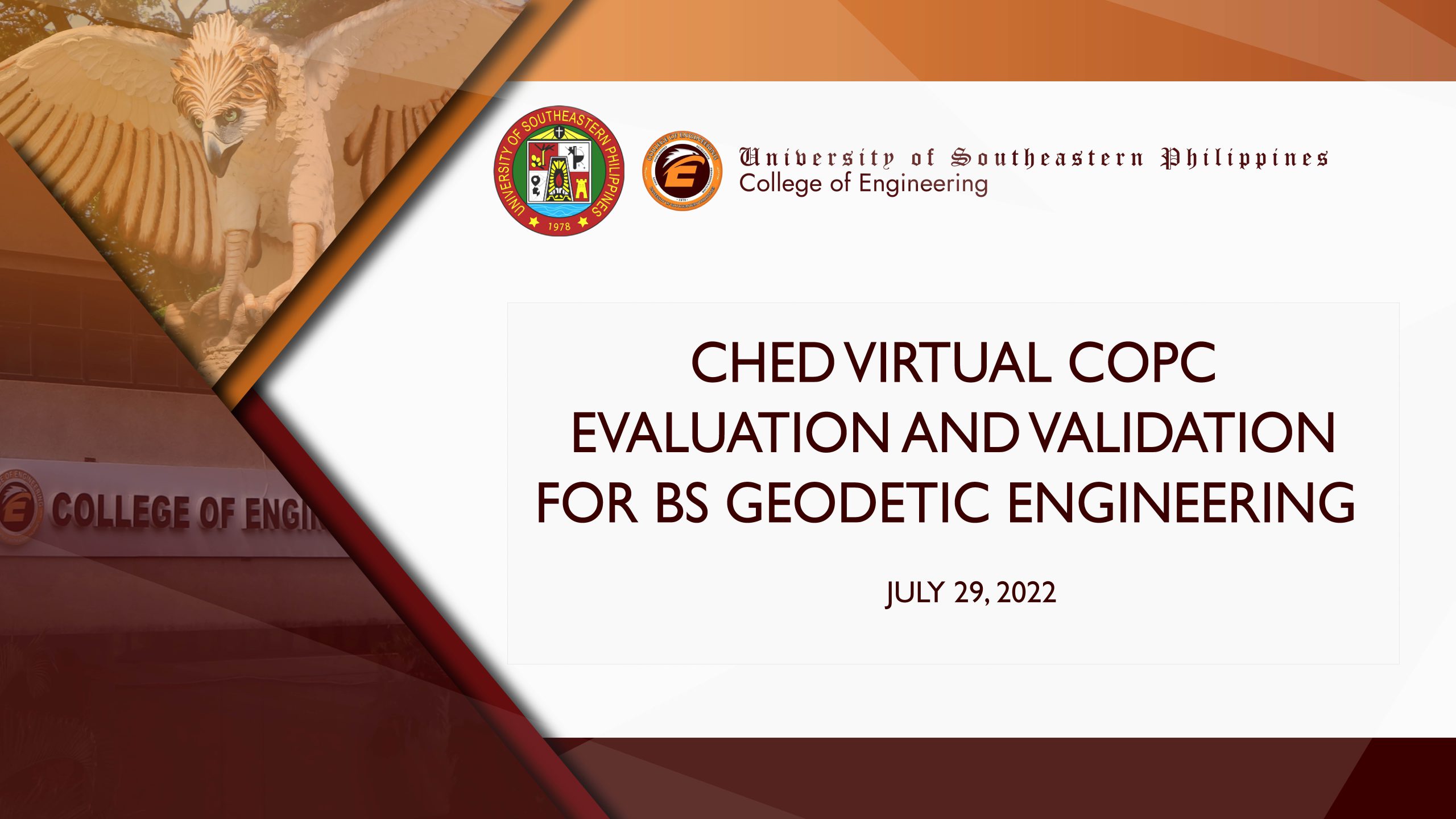 The USeP College of Engineering successfully conducted the CHED virtual Certificate of Program Compliance (COPC) Evaluation and Validation for BS Geodetic Engineering on July 29, 2022.
The Technical Committee for BS Geodetic Engineering was headed by Dr. Epifanio D. Lopez together with Engr. Fernandita J. Calimlim, Education Specialist CHED CO, Ms. Clarizze Angelu Aquino from CHED Central Office and Engr. Maria Christina B. Condez, Education Specialist for Engineering and Technology CHED XI. Also present in the event were Dr. Bonifacio G. Gabales, Jr., Vice President for Academic Affairs, Dr. Tamara Cher Mercado R. Mercado, Vice President for Planning and Quality Assurance and Engr. Jamal Rogers, USeP COPC focal person.
The CoE COPC working committee is headed by the College Dean, Dr. Dalia M. Reconalla, together with Engr. Lynneth C. Soronda, QA Head, Engr. Randy M. Tongson, Associate Dean, Engr. Kenneth C. Alba, Program Head of the BS Geodetic Engineering and together with the BSGE faculty members namely, Engr. Fillmore D. Masancay and Engr. Kevin G. Cañada.
The College of Engineering extends its warmest gratitude to the top management of the University, CHED Technical Committee, CHED RO XI, CHED CO, COPC Unit and the Working Committee for the unwavering support and successful conduct of the said event.