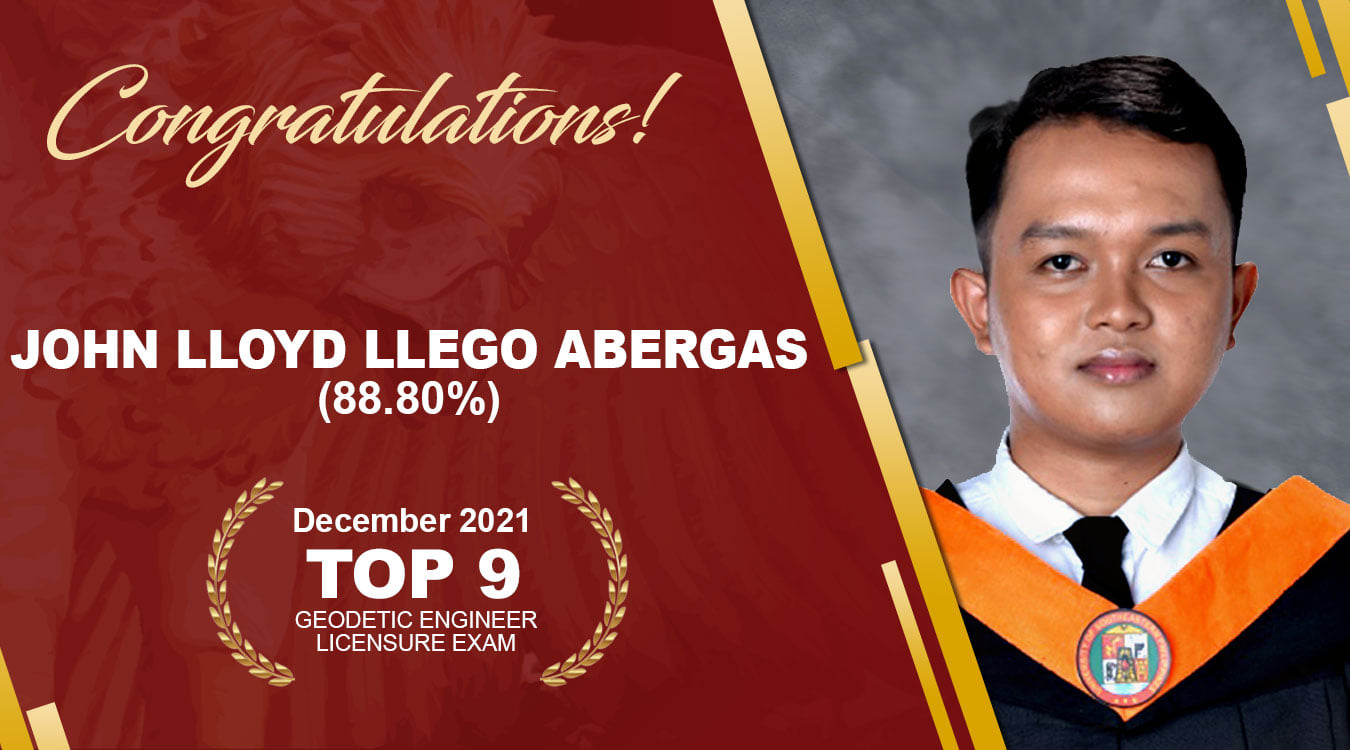 The University of Southeastern Philippines (USeP) Obrero Campus ranked 9th in the 2021 Licensure Examination for Geodetic Engineers conducted last December 22 and 23, 2021. Engr. John Lloyd Llego Abergas is a graduate of the USeP, Obrero Campus – College of Engineering with ratings of 88.80%.
The University has garnered a 60% passing rate from 45 out of 51 first-time takers and an overall passing percentage of 85.19%, the University is recognized as the Top 5 performing school of this Licensure Examination.
Successful examinees for the GELE from the University are as follows:
1. ABABA, Cleo Phelijelle Apuda
2. ABERGAS, Jhon Lloyd Llego
3. ALBORES, John Mark Espina
4. ALDAMAR, Reynaldo Jr. Molon
5. APDIAN, Denver Jan Patenio
6. AQUINO, Dessa Mae Bero
7. BAGAYNA, Hannah Lorraine Ancis
8. BAJENTING, Charry Relativo
9. BALTAZAR, Rachel Palantang
10. BANGOT, Alliah Mae Canda
11. BASOC, Evoney Bantayan
12. BITANGGA, Benedict Pabia
13. BORLIO, Marvy Joy Aparece
14. BULAHAN, Melody Cañada
15. CABALLERO, Ed Jay Cansancio
16. CATACUTAN, Lauro, Jr. Dumanig
17. CAYANONG, Rafael Angelo B
18. CONSTANTINO, Rushell Patricia Soterno
19. CORTEZA, Meco Barcenas
20. CUYOS, Graciela Mae Boja
21. DIAMAODEN, Bassam Macabinta
22. ELLENA, Zyra Enaguas
23. FIGUEROA, Ernie Jr. Manginlaud
24. FILIPINAS, Glent Harrelle Sapuras
25. GELMO, Gwenn Mhyl Resomadero
26. HABLERO, Faith Abegail Casador
27. IYO, Jastine Joy Dawa
28. JAYECTIN, Ben Gino Contento
29. MAGBANUA, Arbe Ayne Capundan
30. MANAYTAY, Triccia Kaye Apurada
31. MARTURILLAS, John Lloyd Rama
32. MENDOZA, Jon Carlo Sonza
33. NAHIAL, Josh Samuel Deocadez
34. NOJA, Chelsea Raizah Paculba
35. PAGSOLINGAN, Junelyn Mariz Pelare
36. PAGUNTALAN, Dave Rusty Cartagena
37. PATRIMONIO, Ceazar June Saracanlao
38. RAHMAN, MD. Liton Cambronero
39. RAMOS, Clarydale Alicaway
40. RECLA, Kimberly Mariel Relampago
41. SAMBRANO, Richelle Marcos
42. SAYON, Paul Ryan Abarquez
43. SUMALINOG, Billy John Arellano
44. TIGLEY, Blessie Joyce Juevesano
45. TUMBOKON, Ram Karlo Mosquida
46. YUSON, Mary Grace Mojado
The Professional Regulation Commission (PRC) announced last December 28, 2021, that 375 out of 694 passed the Geodetic Engineer Licensure Examination given by the Board of Geodetic Engineering in Manila, Baguio, Davao, Legazpi, Lucena, Pagadian, Tacloban, Tuguegarao and Zamboanga.
For the full list of passers, visit this link: https://www.prc.gov.ph/article/december-2021-geodetic-engineer-licensure-examination-results-released-two-2-working-days