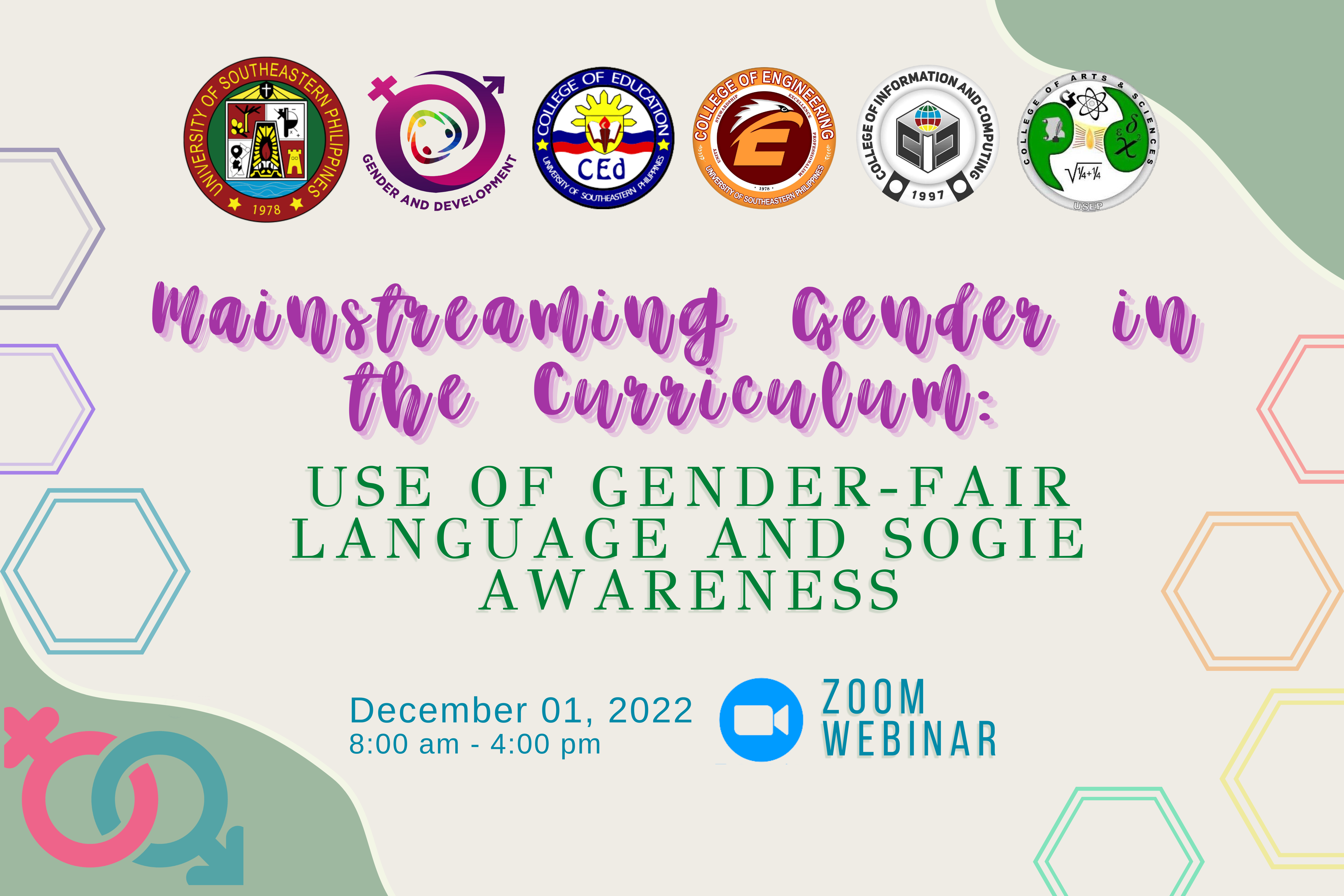 [𝗦𝗔𝗩𝗘 𝗧𝗛𝗘 𝗗𝗔𝗧𝗘] The Gender and Development Office of the University together with the College of Education, College of Engineering, College of Information and Computing, and the College of Arts and Sciences will be conducting a seminar for students titled "𝙈𝙖𝙞𝙣𝙨𝙩𝙧𝙚𝙖𝙢𝙞𝙣𝙜 𝙂𝙚𝙣𝙙𝙚𝙧 𝙞𝙣 𝙩𝙝𝙚 𝘾𝙪𝙧𝙧𝙞𝙘𝙪𝙡𝙪𝙢: 𝙐𝙨𝙚 𝙤𝙛 𝙂𝙚𝙣𝙙𝙚𝙧-𝙁𝙖𝙞𝙧 𝙇𝙖𝙣𝙜𝙪𝙖𝙜𝙚 𝙖𝙣𝙙 𝙎𝙊𝙂𝙄𝙀 𝘼𝙬𝙖𝙧𝙚𝙣𝙚𝙨𝙨" on December 01, 2022 from 8am to 4pm via Zoom Webinar.
This activity intends to capacitate the students with the knowledge, skills and attitude on gender-sensitive learning concepts and practices. Specifically, this aims to reinforce understanding of basic concepts and principles of Gender and Development (GAD) and Gender-Fair Education and retool learning skills in the use of inclusive practices and concepts related to SOGIE.
We are encouraging the participation of the students in this discourse. See you there!