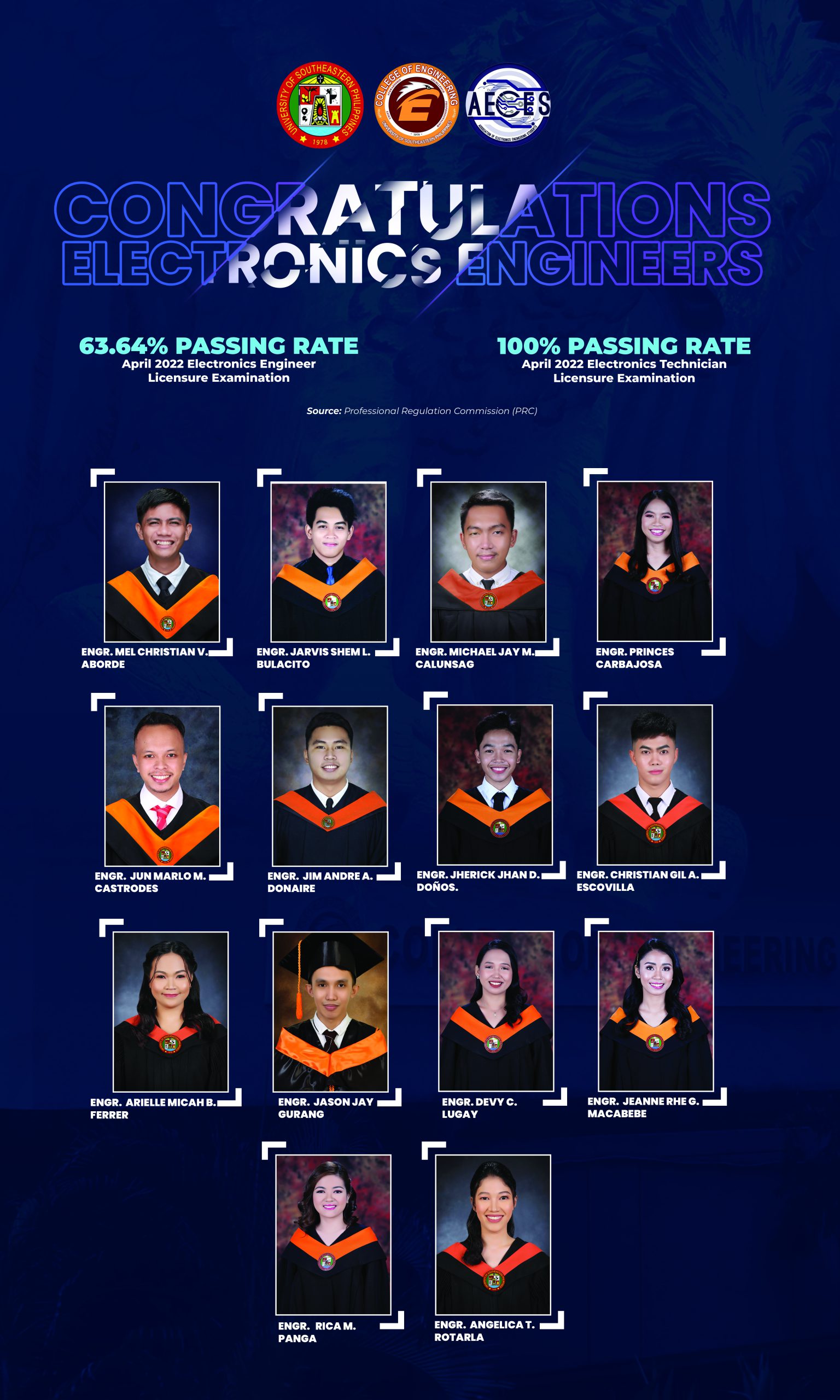 The University of Southeastern Philippines (USeP) College of Engineering (CoE) proudly congratulates the following BSECE graduates who passed the April 2022 Electronics Engineer Licensure Examination last April 20-21, 2022.
Successful examinees are as follows:
1. ABORDE,Mel Chirstian V.
2. BULACITO, Jarvis Shem L
3. CALUNSAG, Michael Jay M.
4. CARBAJOSA,Princes
5. CASTRODES, Jun Marlo M.
6. DONAIRE, Jim Andre A.
7. DOÑOS, Jherick Jhan D.
8. ESCOVILLA, Christian Gil A
9. FERRER, Arielle Micah B.
10. Gurang, Jason Jay
11. LUGAY, Devy C.
12. MACABEBE, Jeanne Rhe G.
13. PANGA, Rica M.
14. ROTARLA, Angelica T.
The University has garnered an overall passing rate of 63.64% for the ECE and an overall passing rate of 100.00% for the ECT.
The Professional Regulation Commission (PRC) announced that 897 out of 1,925 and 1,139 out of 1,337 takers passed the Electronics Engineer Licensure Examination and the Electronics Technician Licensure Examination given by the Board of Electronics Engineering in Manila, Baguio, Cagayan de Oro, Cebu, Davao, Iloilo, Koronadal, Legazpi, Lucena, Pagadian, Pampanga, Rosales, Tacloban, Tuguegarao and
Zamboanga, respectively.
For the full list of passers, visit this link: https://www.prc.gov.ph/article/april-2022-electronics-engineer-licensure-examination-results-released-four-4-working-days