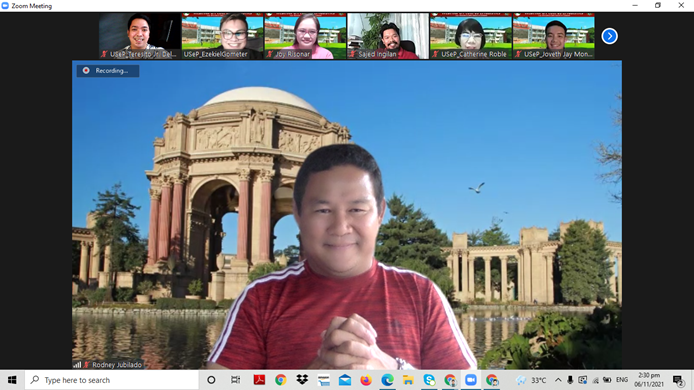 The Master of English in Applied Linguistics students of the University of Southeastern Philippines under AL 114 – Applied Linguistics, in partnership with the Language and Literature Department, organized a Webinar on Corpus Linguistics with the theme "Applications of Corpus Linguistics to Lexicography" last November 6, 2021, 1PM to 3PM, PST.  The invited speaker of the said event was Dr. Rodney C. Jubilado, an alumnus of this prestigious University and is currently teaching as a language professor at the University of Hawaii at Hilo, Hawaii, USA.
This webinar highlighted the applications of corpus linguistics to lexicography and language teaching. Dr. Jubilado emphasized the usefulness of studying corpus linguistics in language documentation and how it can help in dictionary-making. Additionally, Dr. Jubilado also emphasized how corpus linguistics can help identify the students' needs concerning language learning. Moreover, participants coming from different organizations and higher education institutions actively participated during the open forum.
This event was done successfully with the help and support of Dr. Catherine Roble, AL-114 Professor, and Prof. Joy R. Risonar, Chairperson of the Language and Literature Department. Also, different heads of offices attended the said webinar, to wit: Dr. Jeneifer C. Nueva, Directress of Curriculum and Instruction, Associate Professor Sajed Ingilan, Deputy Director for Publications, and Professor Mary Grace Agbas Ph.D., Director of Pamulaan Center.