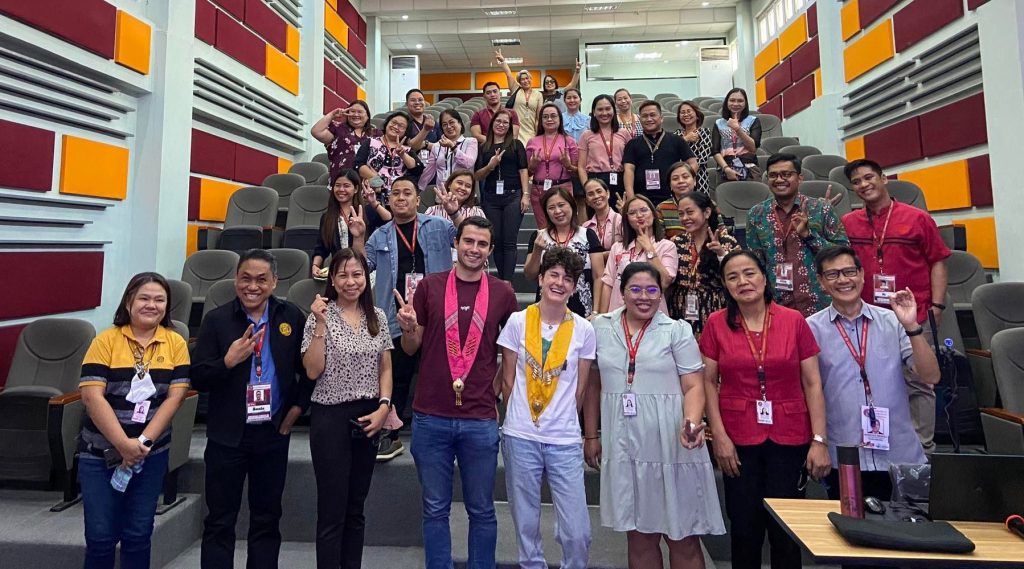 AMAZING and DREAM.

These are the words that would sum up the entire internship experience of Marta Gonzalez and Roberto Gorbeña as they conduct the first phase of their internship at the University of Southeastern Philippines (USeP), Obrero Campus, particularly in the College of Education (CEd).

Roberto chose the word "AMAZING" to describe his internship experience at USeP by emphasizing that upon their arrival at the USeP community, people never failed to show their sweet smiles to them. "They made us feel important as teachers even though we're completely new in here," he added. Marta, on the other hand, used the word "DREAM." According to her, her internship experience here at USeP is like a dream come true because she has always dreamt of teaching at a specific university.

It was on the 12th of January 2023 when Marta and Roberto arrived in the Philippines from Basque Country, an autonomous community and historical region of northern Spain, for their six-month internship program at the University of Southeastern Philippines (USeP) with the College of Education (CEd) as the host college. The USeP held an official welcome ceremony on January 16, 2023 to mark the start of Marta's and Roberto's "European Inbound Internship Program." Their internship is also part of their "Global Training" scholarship received from the Basque Government of Spain. One of the requirements of the scholarship is for recipients to give back to a specific society or serve anywhere in the world. In this case, Marta and Roberto have chosen the Philippines.

According to Ms. Mary Rose J. Ponce, staff at the Office of the International Affairs Division, Marta and Roberto are about to complete the first phase of their internship which started with a brief teaching stint at the College of Education at Obrero campus then an integration with elementary and high school students of CEd's partner schools at the Department of Education. Then they will be endorsed to other campuses of UseP – the Mintal campus, Tagum-Mabini Campus, and the Malabog Extension Campus. Their exposure to different campuses of USeP will allow them to be exposed to various types of education, which is also one of the main goals of their internship. Aside from that, they are also expected to be exposed to other community extension projects of USeP, like the Pamulaan and College Education Behind Bars, to name a few.

With these opportunities, the nature of Martha and Roberto's internship is not purely academic but holistic. Aside from their goal to be exposed to various types of educational systems, it is also for intercultural purposes, as they will be exposed to the Filipino culture. There are also specific activities for language exposure as they also had language lessons with Filipino major students of the College of Education. In the same way, they get to teach students Spanish, their own language. Additionally, they have been hosted by foster families at least once a month, where a specific family adopts them over the weekend to get better genuine experience of the Filipino culture. Overall, they are expected to do all the functions in the academe, specifically in research, academics, extension, and production for their entire internship program at USeP.

Right now, USeP is promoting global citizenship. To keep up with the global demand, USeP look forward to excel in the international arena. The presence of Marta and Roberto is a great manifestation that USeP is one step closer to achieving global citizenship. Aside from that, this internship will also improve our international reach and fulfill our internationalization goals. As they would echo their remarkable internship experiences here in USeP to their colleagues in their country, it would be a strategic move to improve further the University's inbound faculty mobility.

As they embark on the next phase of their internship, Marta and Roberto both expressed their words of gratitude to their teachers/mentors from their country, everyone from the International Affairs Division of USeP, faculty and staff from the College of Education, the entire USeP community, the Department of Education, and everyone who is involved in the conduct of their program.

By: Jonalyn Bolivar Pogoy (BSED English student)
Photo credits: USeP International Affairs Division, CED Faculty